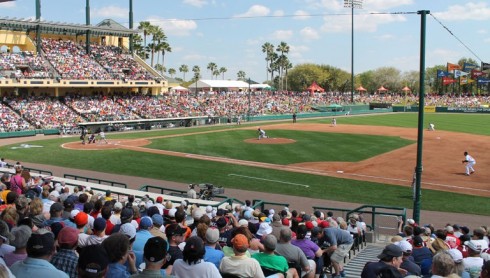 Contrary to the logic of the Dodgers and Diamondbacks having already played two regular season games in Sydney, Australia, and the odd Sunday kick-off game yesterday, the official Opening Day of the 2014 Major League Baseball season is today.  Baseball season has officially begun, and from now until October, the greatest sport on earth is in play.
And I just don't really care.
By no means does this mean that I've suddenly grown to hate baseball or anything, it's just that it just doesn't feel so tremendously important to me like it once used to.  This is probably no surprise to my six readers whom I've been telling for two seasons now about my increasing apathy towards the greatest sport on earth, but this is the first time that I've completely forgotten about Opening Day.  I know the Braves are opening their season out in Milwaukee, and that they're going to Washington next, but that's solely because I just found out about the opening series and I'm likely going back to Virginia this weekend.  I have no idea who the Braves are going to host for when they open up Turner Field eventually, nor am I so eager that I have to immediately check.
Sure, I joke about how I'm the worst baseball fan on the planet, but when the day is over, I'm still rooting for the Braves to win every game they can, and hope they make it to the playoffs and have a good run en route to a World Series championship.  However, I'm not going to be so hell-bent hanging on every single game like I once was like a few years ago, because it's just not that important to me anymore.  I'm not sure if this is just because I've grown distanced from the fandom, or if other things just seem much more important and of higher priority.
Regardless, I find comfort that on most nights, barring a scheduled off-day or inclimate weather, there is always something to do, with a Braves game, or any other game that might be nationally televised.  However, baseball games aren't going to dictate my schedule, and I can already foresee that if something more seemingly interesting or appealing comes along, I'm going to hesitate less to choose it over the game.
The one thing that hasn't changed at all, in spite of my general apathy of entering a fresh new season, is what baseball means to me.
Baseball is the perfect excuse.
It's the perfect excuse to get together with friends and have laughs, drink cold beers, eat crappy food, and share good conversation.  It's the perfect excuse to travel, and cite a game as justification to visit a corner of the country that you might not consider visiting under any other circumstances.  Baseball is simply the perfect excuse to indulge in the world around us, with or without other people, although I personally find it best with others.
Although the arrival of the 2014 season doesn't seem that important to me, I still tremendously look forward to getting together with my friends for some select games.  I still look forward to getting in my car and driving 3-5 hours to minor league ballparks I haven't been to before, so I can subsequently visit the small downs and try new restaurants and regional foods I'd never had before.  I still look forward to planning and hoping to execute larger baseball trips to cities I've never been to before, and the adventure of renting cars and exploring segments of the country I'd never thought of visiting until baseball happened.  And I most certainly, still look forward to expanding on my ever-growing collection of baseball bobbleheads, which I admit to spending an egregious amount of effort in planning and working with others to collectively expand our respective collections.
So although I might be apathetic to the arrival of the baseball season, it doesn't mean the arrival of the baseball isn't important to me.  The results of the games just aren't as important to me as all of the little adventures in between and leading up to the games before they actually happen.  These are the things that happen, because baseball is the perfect excuse for them to happen.