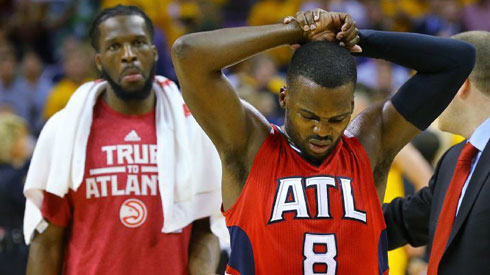 Impetus: after the Atlanta Hawks were unceremoniously swept out of the NBA Playoffs, the Hawks organization published this statement that tried to accentuate the good of the season, right after the biggest of bads just occurred.  The tagline of the entire statement was that the Hawks finished the year "True to Atlanta."
Honestly, I don't blame any Hawks fans for wanting to read this gigantic wall of text, but basically it's a written list of all the good things that happened to the Hawks throughout the course of the 14-15 NBA season.  Including things like their franchise best 60-win season, the first time ever to the Eastern Conference Finals, and being one step away from contending for the NBA championship.
Ultimately, it's no different than any other team-mandated post-season letter thanking the fans and investors (but mostly investors) for their support, but what I think that makes this worse than any other letter sent by any other organization is their choice of tagline, and the unintentional irony behind it.
True to Atlanta
Let's be real here, I like living here, but the fact of the matter is that when it comes to sports of all forms, Atlanta, as well as the state of Georgia itself, are notorious for falling short.  It's often debatable between which is worse between not contending at all, and contending and falling short, but the truth of the matter is that at the end of the day, Atlanta just isn't the home to any champions.
Whether it's the Braves' inability to succeed in spite of repeated consecutive chances in the playoffs, the Falcons' inability to get to the Super Bowl much less consecutive playoffs, Georgia Tech's inability to knock off a reeling Florida State, and then Georgia's inability to beat the lesser-heralded Georgia Tech, there's a lot of failure associated with sporting teams within Atlanta and the state of Georgia.
The Hawks constantly using the phrase "True to Atlanta" at first blush made me immediately think that it was in reference to the fact that the Hawks get to join the club of Atlanta sports franchises that came close, but fell short, at championship aspirations.
It's not wrong at all, but their choice of words adds a lot of unintentional irony that wouldn't be the case if they had a different tagline, or simply no tagline at all.