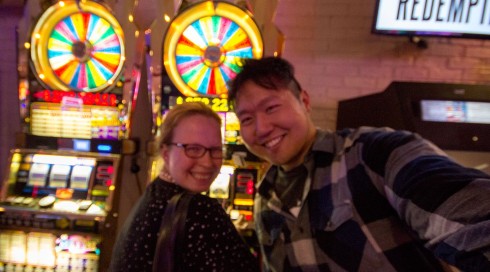 Literally, two weeks ago, a close friend of mine messaged me out of the blue to tell me that she was getting married in Vegas.  Initially, she assumed I was already going to be in Vegas because of Otakon Ve(r)gas, but pffh I don't don't really go to conventions anymore, much less the ones run by friends.  I had no intention of going out to Vegas for OV, but to be there for a good friend's wedding?
Not to mention an Elvis wedding?  Totally worth it.
Thankfully, I was able to find some reasonable travel and lodging accommodations, and was able to make it out to Vegas this past weekend, in spite of the last-minute nature.  The wedding itself was everything I thought it would be; short, succinct and to no real surprise, the Elvis impersonator himself was really mediocre.  He didn't do the voice, barely any mannerisms, and nary was there more than like two lip curls.
But I witnessed my friend get hitched, ate a lot of food, and spent some time with her before I probably don't see her again for a few years.
As for Vegas itself, all my other friends were working the convention, so it was only in tiny bursts and only within Planet Hollywood did I really spend any time with them, not that such was any surprise.  Otherwise, being in Las Vegas by yourself is among one of the lamest feelings, because all activities in Vegas aren't really fun without the company of others.  Needless to say, I didn't gamble, drink, or even eat, nearly as much as I would have in the company of friends, and honestly, what little I did gamble or drink was probably forced out of the notion that this is the only place where gambling and public outdoor drinking is legal, and I figured to indulge while I could.
I just wasn't feeling Vegas, this time around.
I brought my camera, thinking I'd take pictures at the wedding and at the convention, but it turned out that aside from my friends, I didn't feel like taking pictures, and I second-guessed bringing my camera to the wedding, because I didn't want to be the guy who brought his camera to a wedding.
Anyway, I did get a few shots, but of/with friends, because when the day is over, those are the only pictures that really matter.