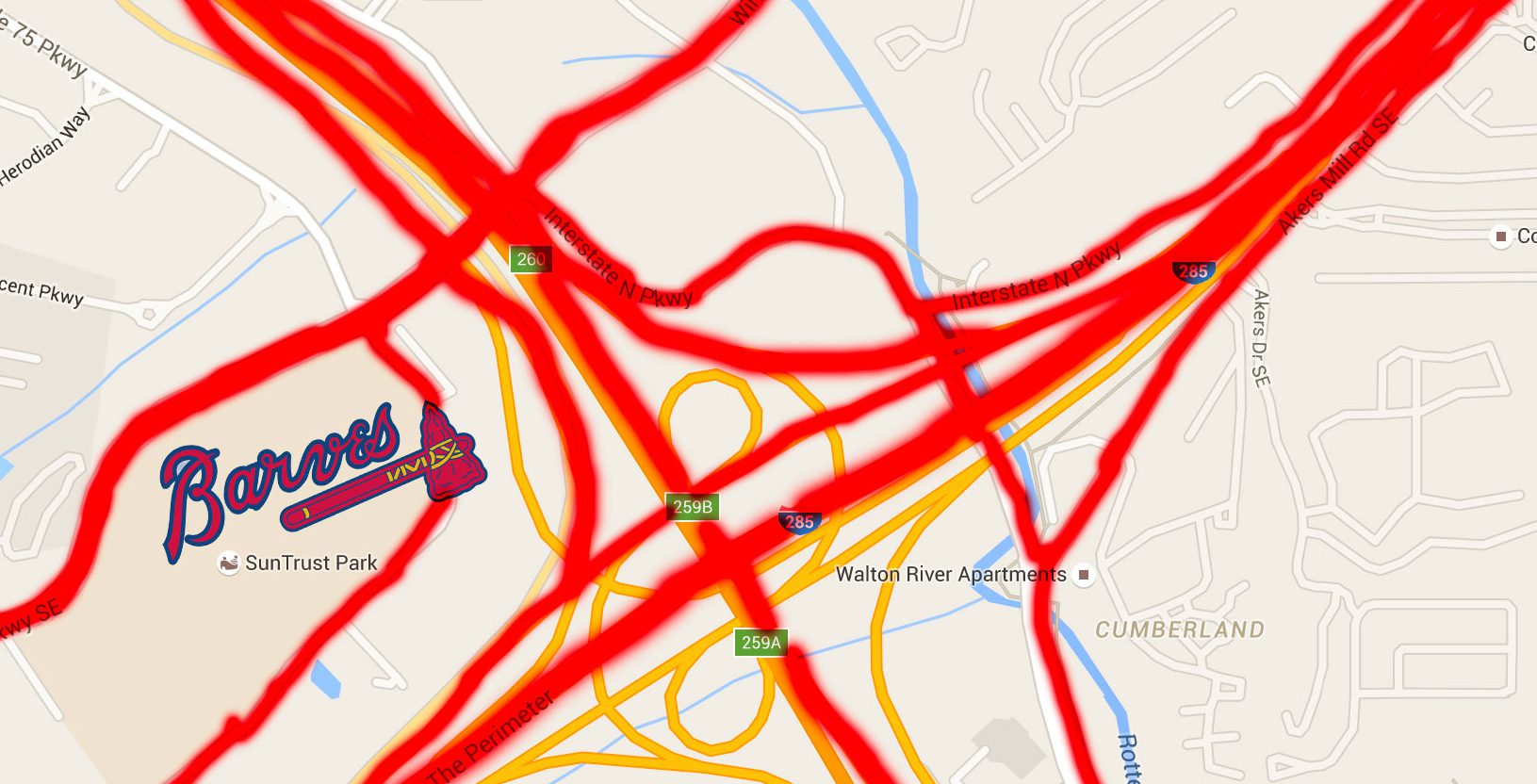 Who would've thunk it?  Sandy Springs mayor outraged because Cobb County plans on utilizing Sandy Springs surface streets to direct game-day traffic onto?  Shocker of the century.  No way they should get upset over such a trivial matter!
It's funny because when the new stadium was revealed after it's secret planning and surprise announcement, the very, very, very, very first concern that was brought up about it's location at the corner of I-75 and I-285 was the traffic.  The north quadrant of I-285 is already known to have the worst of the daily commuter traffic on a daily basis, and conventional thinking leads to believe that the insertion of thousands of people going to a baseball game onto the very same roads would lead to a dramatic worsening of traffic.
But it's okay, because the Braves and a whole litany of Cobb County stiffs who arranged this whole debacle were all like "Naw, there isn't going to be any worse traffic!  We're going to build a bridge!  We're going to have buses!  We're going to expand Cobb Parkway!  We're going to make the new park bicycle friendly!"  And other bullshit rhetoric that were attempts to dissuade the dissent over traffic reasons that wasn't fooling anyone with a quarter of a brain.
Well, the bridge's funding still doesn't have any real clear-cut transparency on how it's going to be funded.  Look out, Cobb County has six buses to transport tens of thousands of people.  Locals aren't thrilled with the incessant construction on Cobb Parkway, and 75% of people seem to agree that riding bicycles to ScumTrust Park via the highway or six-lane roads is not a good idea.  Oh, and the ballpark has bankrupt the county's parks budget, but that has little relevance in this topic other than the fact that I just felt like pointing that out again.
But yeah, in spite of the Braves & Cobb Cronies' best efforts to deny the fact that traffic is a legitimate concern, this is finally a story that brings it to the forefront, and much like everything else the ScumTrust contingent is doing, it's one that is disapproved by many, and ultimately something that people like me shake my head and arrogantly laugh at.
The mayor of Sandy Springs most certainly has a legitimate reason to be enraged by the Braves & Cronies wanting to use their roads as access roads to ScumTrust Park.  For starters, the Braves are in an adjacent city in an adjacent county, so there is absolutely zero merit or benefit for Sandy Springs to remotely be okay with Cobb planning on directing people onto Fulton streets.
Furthermore, it's not even a bad idea because it's inconsiderately taking advantage of neighboring town and county resources, it's a bad idea because it's just a bad fucking idea.  I'm pretty familiar with these particular roads, because they're roads that I used to take when I grew so exasperated with I-285 traffic and I needed to get off the fucking highway, and they're roads I used to take because they were the optimal route to get to Heirloom Market Barbecue (one of the best joints in Atlanta period full stop) and they were close to where Mythical Girlfriend used to live.
Interstate North Parkway, specifically, is the route that would be abused the very worst if this plan were to become a reality.  Everyone trying to get to ScumTrust Park from Sandy Springs, Dunwoody, Chamblee and everyone from Gwinnett County would be utilizing this alternate route, if they weren't willing to wait one more exit and get off on Cobb Parkway itself.  It's a two-lane road that will backup and ensnare not just itself, but likely Northside Drive, New Northside Drive, and potentially loop back to clog up Powers Ferry Road as well.  Even with a bunch of deadbead rent-a-cops to direct traffic, the roads themselves are simply not capable of not being completely clogged to the gills with cars.
In spite of the claims that claims that Interstate North is not residential, which isn't inaccurate, there are homes off of Interstate North that are entirely reliant on it to be able to access them.  Imagine living in the neighborhood surrounded by Interstate North and Powers Ferry Road, and being completely incapable of getting home, because the Braves have a home game against the Red Sox, Yankees, Cubs, or whichever team is drawing well.  Not only would it be infuriating, it could also be detrimental if there's an emergency or situation that requires a little bit of time sensitivity. 
Sure, this hypothetical is dependent on the Braves being good again, which might not happen until like 2018 at the soonest, but even the first few months of ScumTrust Park where people want to go because it's new and shiny, will make life miserable for nearby residents.
Hm, maybe the cost of rent will go down in those particular units for 2017?  Probably not, because the people who manage those properties have probably been brainwashed into thinking the Braves being close is a good thing.
The bottom line is that this is a bad idea stacked on top of an existing bad idea.  Traffic is most certainly going to be a traumatic failure for ScumTrust Park and the Braves, and short of the invention of mass teleportation (because Cobb County is scared of black people and would never green light MARTA), catastrophic traffic is entirely, 100% guaranteed to be a tremendous problem.
Man, the Braves and the construction of ScumTrust Park make it so easy to be right about things.  And when you're right about things, people think you're smart.  And when you get smart enough, people think you're a goddamn genius.  The Braves are making geniuses out of a whole lot of ordinary people these days.