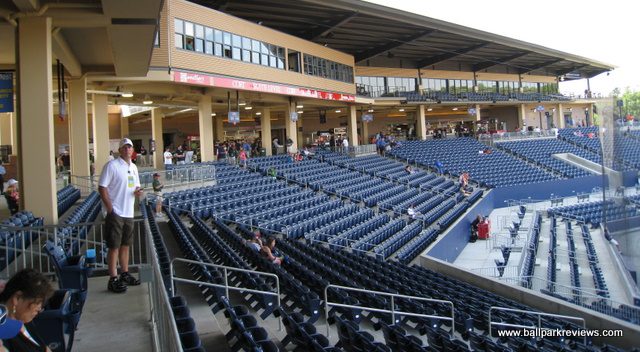 About as easy to predict as rain in Florida – the Gwinnett Braves suffer average attendance drop for the fourth straight year
Sometimes I wonder at what point will people see beyond all the rah-rah rhetoric about how the Atlanta Braves and all their owned affiliates are good for economies, communities and are actually burdens and ballasts to towns that weren't exactly unanimously ecstatic about their presences?  Will a player have to kill someone?  I mean, Braves players have been busted in various forms of domestic abuse, and nobody seems to sour on the organization.  The organization has fleeced pretty much every small town in which their minor league affiliates exist in, as well as the future home of the big club.  When will people realize that baseball isn't just America's Pasttime, but also a cold, calculated, greedy, money-grubbing business that often acts like a leech on the places they invade?
But anyway, about as sure as the sun rises in the morning, the Gwinnett Braves are struggling to draw people to their ballpark.  I mean, who would have thought a minor league ballpark that's barely 60 miles away from the major league parent, with ticket costs equivalent to major league prices and has a staunch no-outside food policy unlike the parent, would suffer weak attendance numbers?  I mean, who wouldn't want to see Sean Kazmar instead of Freddie Freeman, or whenever a superstar visiting player like Clayton Kershaw or Andrew McCutchen comes to Turner Field?
I get it, having the AAA squad within reasonable driving distance allows for the Atlanta Braves to shuttle back and forth auxiliary players at the drop of a hat.  It's certainly a luxury that the New York Mets do not have, as they have to pull players kicking and screaming away from the hookers, booze and blackjack tables of Las Vegas to play in Queens.  But at some point, when you do not have a long-term plan, and are actually a little too close for inconvenience, the Gwinnett Braves were bound to suffer.
But it's not impossible for a minor league team to succeed, even in the shadows of the parent club.  Look at what Pawtucket is to the Boston Red Sox; they're located closer to Fenway Park than Gwinnett is to Turner Field, but they're ever bit of successful and well run than a major league team.
The Gwinnett Braves claiming that people still associate their location as "The Atlanta Braves" as justification for dwindling attendance is weak and lacks effort.  There are extremely easy ways to boost attendance, even if it means cutting into the bottom line.  Sacrificing the bottom line now, to build faith, trust, equity and good will goes a long way into being able to start integrating means into gaining it back later.
Cut costs.  Across the board.  The Braves charge to park in just about every single one of their minor league affiliates, except for like, Danville, Virginia.  Parking is free at numerous minor league ballparks, and to a person like me, it goes a tremendous distance in being the deciding factor on whether or not I want to go in the first place.
Cut costs of tickets, concessions and beer.  It's the easiest way to make money if suddenly a whole lot of people are paying lower costs for more shit.  The Angels did it when Arte Moreno took over the team, and the boost in attendance was instantaneous; and that was just from cutting the cost of beer.  If people suddenly envision the Gwinnett Braves as the more economical alternative to the Atlanta Braves, they might just show up.  Think successful phone apps, they make money by giving shit away, but then raking in millions on microtransactions.  Nobody is saying sell hot dogs and beers for 99¢, but people would go ecstatic if a Miller Lite were $5 instead of $8.
Better promotions.  More bobbleheads; and not of their own whisper in the wind minor league guys, but of Chipper Jones, John Smoltz, legends that were Braves that all Braves fans, be it Rome, Mississippi, Richmond or Gwinnett Braves would recognize.  More concerts, more theme nights.  Bark in the park, and kids days.  Getting people to buy a ticket and come through the gates is easy; whether they stay or not is a different story, but irrelevant as long as their money has been pocketed and their ticket has been documented as them having been present at one point.
And the big zinger of an idea is truly an outside-the-box thinking for the Braves organization: don't be the Braves.  One of the best things about minor league baseball are the occasional cheese-ball names that some teams are.  The Akron Rubber Ducks. The Daytona Tortugas.  The El Paso Chihuahuas.  Iron Pigs, Fisher Cats, Blue Wahoos and Dust Devils.  Chintzy, tacky names, that are either derived from very local heritage, or occasionally fan input; but the bottom line is that whether it's paying homage, or being debated by local residents, it's engaging those who live in the community, instead of The Braves Way of declaring it, taxing it, and building it, with no regard to the lives they might affect.
"Hey what are you doing tonight?"
"Going to a Braves game."
"You sure you want to drive in that traffic getting downtown?"
"Going to Gwinnett Braves game."
"…You sure you want to drive in that traffic getting to Lawrenceville"
Imagine if Gwinnett changed their names to like the Gwinnett Beavers.  Their mascot is already a giant beaver, Chopper, and it's derived from supposedly Beaver Ruin Creek.  No, this post did not originate from me wanting to suggest that the Braves should become the Beavers in the absence of the Portland Beavers, or to just use the word beaver like a 14-year old, but seriously, I think it's a good idea.
"Hey what are you doing tonight?"
"Going to a Beavers game."
"Oh shit, it's Thirsty Thursday, dollar beer night.  I'm coming too."
"You hate traffic to Lawrenceville."
"Dollar beer, cheap tix, and I can go for a hot dog or four."
"Okay, let's go."
The interesting thing about all these ideas are that they're completely independent from the actual point of a minor league team, to watch baseball.  Ironically, the Gwinnett Braves are actually rich in talent this season, but as is often the case with Braves teams, they still suck, because there's a whole bunch of talented individuals, but blow as a functional team.  Winning games doesn't always equate to good attendance in minor leagues, and as the Atlanta Braves and the Tampa Bay Rays know, it doesn't always equate to good attendance in the Majors too.
These principles don't apply solely to the minor leagues, but in the case of the Gwinnett Braves, it would be a great opportunity for the organization to test good ideas like this out, and find out how to apply them across the board.  Maybe it'll help improve attendance everywhere.  But the Gwinnett Braves making all these bullshit excuses about dwindling attendance is full of shit, and their failures are solely because they're lazy and stupid.