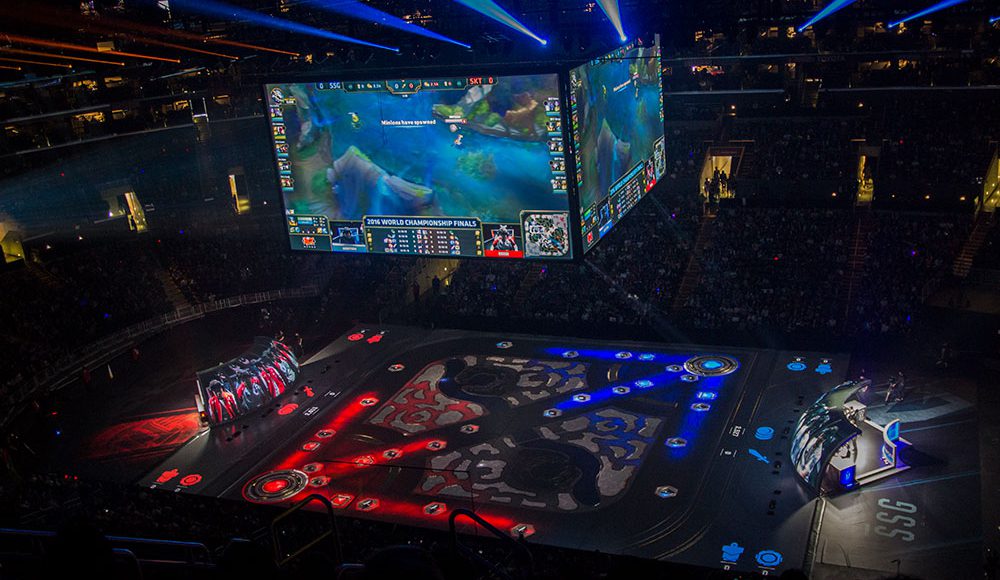 For the second year in a row, mythical gf and I decided to go see the finals to the League of Legends World Championship.  For the second year in a row, the finalists were both teams out of Korea; hence the renaming of Worlds to League Champions Korea's Fall Split, since for the fourth year in a row, Korea has run roughshod over the competition and would be champion of the game.
Thankfully, 2016 would be a year in which Worlds was held in the United States, absolving me from making a third international trip within the span of six weeks.  Instead, it was merely a leisurely weekend trip to Los Angeles, which saw a miserable flight out to LA, lots of junk food and Pikachu Game on top of League-related activity.
But for simplicity sake, we'll stick to the Worlds experience, because honestly, there's not a whole lot to talk about in regards to playing Pikachu Game on the Santa Monica Pier, and being sat next to a 400 pound blob on a flight.
As far as what we came to see, two top-tier Korean League teams duking it out for the World championship, it really couldn't have been any better than how it transpired.  SKT roaring to an early 2-0 series lead in a best of five, before an epic, 70+ minute game 3 that saw Samsung stave off elimination, before punching back hard in a fairly decisive game 4.  And then both teams going into the deciding game extremely cautiously, before SKT calmly and clinically picked and peeled at Samsung's game plan before gaining an advantage and quickly going for the jugular to win their second World championship in a row, third in the last four years, and three out six in the game's entire history.
Personally, I thought Bengi should've been anointed MVP, but it's hard to ignore the existence of Faker, whose numbers were pretty good in the grand spectrum of the five games played.  Blank could very well not be back on the squad next season, and with the end of another year probably means a lot of shuffling around rosters all across the entire competitive League scene.
However, as far as the whole experience of Worlds, I'm going to have to say it was far from perfect, and pretty unanimously a step back from last year's final in Berlin, which seemed like a step back from the ceremoniously grand treatment when Worlds was held in South Korea.
If I never had to go to the Staples Center again, I would be completely fine with it.  From the day tickets went on sale to the overbearing arena security that flip-flopped more than Donald Trump, widely the only associations I have with the Staples Center are negative.
Getting tickets in the first place was an atrocious, luck-based crapshoot, which ultimately I was lucky to get the nosebleed seats I ended up with.  Seriously, AXS's ticket processes made me pine for Ticketmaster.  Ticketmaster.  There was plenty of warranted skepticism that tickets were hoovered up by people who solely intended to flip them for profit, whether they were just entrepreneurial fans or simply scalpers who grab whatever they can, whenever they can, especially since eBay was conveniently flooded with ticket auctions all seeking four times the face value for entry, after tickets were declared sold out.
I felt a sadistic sense of satisfaction when throughout the entire evening, the seats next to me were empty for the entire match; I had a backpack and a gigantic stuffed Poro King, and it was nice to set both to the side instead of underneath my legs and feet.  In fact, nearly a quarter of the entire Staples Center's seats were empty, presumably because scalpers and second-hand sellers probably simply couldn't unload their tickets. 
This was very amusing to me.  Probably only in America, where scalpers, StubHub and the secondary market rule the ticketing industry. The Mercedes-Benz Arena in Berlin a year prior, was packed to the gills, and not only were there few empty seats, there were people sitting in the aisles and on stairs.
If a venue told me that I couldn't bring something inside, I wouldn't have much objection, as long as it was disclosed up front, and there were logical solutions available.  But when a head of security gives me the okay after physically examining something that I worked hard on to make, only for another security guard to stop us to tell us we can't have it, resulting in an argument, where resolution is to seek out said head of security, only for him to basically say "oops, my bad, no you can't have it," then it's problematic.  It's a little embarrassing to be singled out and basically publicly chastised, and it was an incident completely avoidable, by competent personnel accurately doing their jobs in the first place.
Needless to say, the Staples Center and its incompetent staff are shit, and it makes me think the venue as a whole is shit, with its near-impossible means to get good tickets, and it's employees who don't know their own policies.
As for things that Riot could control, like festivities, sights, swag and giveaways, I would have to say that everything fell flat, especially compared to years prior.
In Berlin, Riot set up the giant Baron Nashor pit, some interactive booths, merch stands and other random sights, right outside of the Mercedes-Benz Arena-for free.  Anyone could walk up, check out the sights, take pictures and get up close to some cool things, as long as they were present in the area.  In Los Angeles, all of the aforementioned cool sights were placed in a cordoned off area designated The Riftwalk, and it was available to see; if you paid for a ticket.
Thankfully, it was free to those who had admission into the Staples Center on the day of the Finals; except there were nearly 20,000 tickets sold with probably 15,000 people actually present, all of them wanting to get into the Riftwalk.  Not to mention by the time we arrived, the line was declared cut off, and I didn't get to see one of the only things worth checking out from the whole Worlds experience.
The merch stores on site didn't have any real exclusive merchandise, save for a giant Poro King plush, and an Amumu t-shirt I hadn't seen before, but I would wager that both end up on the Riot store within the next month.  Mythical gf picked up two posters in Berlin that have never been sold outside of that arena, but nothing new or genuine this time.
Last year, leaving the arena, Rioters were waiting next to pallets of boxes, filled with a Heimerdinger figurine that had yet to be made available to the public.  Furthermore, all Finals attendees were immediately after the Finals to submit their ticket numbers for a free Championship Kalista skin redemption.
This year, there was no goodbye giveaway, and those attendees that picked up the Coca-Cola commemorative cups were given a card; with the chance to win some free RP, which naturally both mythical gf and I both didn't win.  And there's been no free skin or any swag to reward those willing to dedicate and travel.
First world problems, I know, but still a definite step back from just a year ago.  I guess they spent all their Worlds budget on the buggy interactive map that sat atop the entire court that nobody was paying attention to when the action started to get tense and heavy in later team fights; but I'd wager it didn't cost them $5 million dollars.
The matches themselves were phenomenal games, worthy of being for a World championship.  However, the matches should only be a segment of what makes going to Worlds an experience, because I could have just as easily enjoyed the drama of a five-game series from the comfort of my own couch.   The overall experience from Worlds in 2016 was admittedly a letdown; the venue was garbage from start to finish, and giving back to the fans was completely nonexistent.  
The only saving grace is the continuous excuse that the scene is still young, the rules are rewritten and being redefined on a yearly basis, and that hopefully one full year is enough time to improve on the shortcomings of a mediocre prior one.  Riot dropped the ball in 2016 creating a good World championship experience, but salvation is always next year.