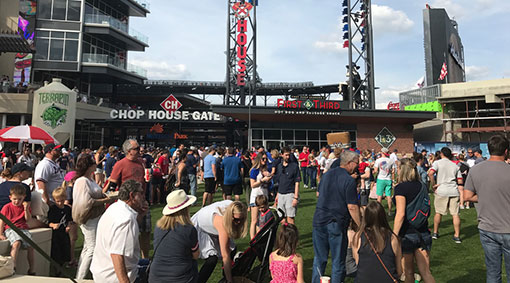 Shocker: ScumTrust Park, the new home of the Atlanta Braves of Cobb County, has abolished on of Turner Field's most popular policies – the ability to bring in outside food
This is about as surprising as finding out water is wet and fire is hot.  Anyone who thought for a second that one of Turner Field's most popular policies would carry over into the new ballpark was delusional.
Of course ScumTrust Park isn't going to allow people to bring in their own food; with the park smack dab in the middle of The Battery, the lame name used to describe the epicenter of shops, restaurants and other tourist crap that will surround Great White Flight Park, naturally they're going to do everything to dissuade people from bringing their own food and instead spending money on overpriced homogenized pretentious crap around the park in order to eat instead.
It's like they had to have the policy of outside food at Turner Field, because aside from a shitty barbecue restaurant, there literally was nothing surrounding The Ted.  The Taco Bell that sat caddy-corner to the ballpark for years conveniently burned down in 2006 at the same time Chick Fil-A opened up inside the ballpark, and there's been little else outside of the park.  If they didn't allow for outside food, The Ted would have had even more pathetic and paltry attendance, than the 2015 season was, when people would rather not go than be forced to spend money on Aramark garbage.
If there was ever an example set, it would be 30 miles north of the city of Lawrenceville, where the Gwinnett Braves minor league squad plays.  From the onset, they disallowed outside food, and I was even interviewed and quoted in the local paper for pointing such out and putting it on the internet, back in my baseball-writing days.  If the lowly minor league team can get away with it, why shouldn't the big bad major league club follow suite?
As the grand opening nears, there's no shortage of attention that ScumTrust Park is getting, and going to get.  Banning outside food is the smallest surprise yet, and I'm sure there are going to be more tryhard over-serious rules in place that are going to put a wet blanket over the potential of fun, because they might be my team and all that shit, but there's no denying that the Braves are kind of among the fun police in Major League Baseball.
Next thing you know, the park will have a Nazi-like ticket proximity policy, where having an upper deck ticket will only allow patrons to move about only on the upper deck.  The Chicago White Sox's U.S. Cellular Field has such a policy, and such a policy alone is why I've anointed The Cell as the worst park in MLB.  But until the Braves decide that they will have a policy that handcuffs patrons to their assigned seats regardless of weather or actual entertainment value of the game, there's no shortage of things they could come up with to try and do their best to trump the White Sox.