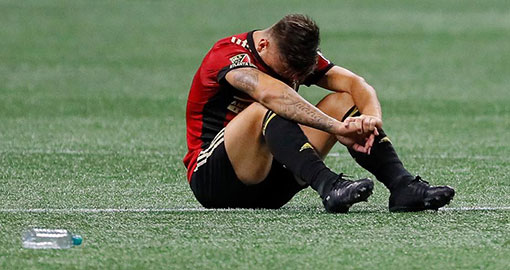 Continuing the tradition set by all of the other professional sports teams in the city of Atlanta: Atlanta United gets bounced from the MLS playoffs with a loss to Columbus Crew SC
Prior to me writing this, I had thought about writing about how I really hoped that Atlanta United would have pulled the ultimate miracle of all expansion teams, and somehow managed win the MLS Cup.  Not only would it have been an unprecedented performance of winning a championship in their first year of existence, but there would be something so gratifying about the expansion soccer team, breaking the "curse" of Atlanta sports, and being the first team to deliver a championship to the city since the 1995 Braves, especially after the uber-meltdown of the 2017 Falcons in Super Bowl Lee.
I had a plan to twist my choice of words to ironically talk about how it probably had everything to do with the fact that ATLUTD had gargantuan fan support since their arrival, and getting into their games turned into Dragon*Con hotel registration, every single game, they were that hot of a ticket to get into throughout the season.  And how ATLUTD was demonstrative of the power of fan support, attempting to shame the fairweathered Falcons, Braves and Hawks fans who only come out to support only when they're good.
In fact, I was all ready to start writing the night prior, but because I don't really follow MLS or have any inkling to how their scheduling works out, by the time I sat down at a computer and prepared to write, I discovered that the playoff game had already happened, and Atlanta United had already lost.
And not only did they lose, they lost at home, and they lost on penalty kicks.  And it wasn't even a 5-3 nail-biter of PKs, it went 3-1.  I don't know how many of my six readers actually know anything about soccer, but the penalty kick is basically the highest percentage shot in the game, since it's one-on-one, there are no defenders save for the goalkeeper, defending a trailer-sized goal, and there are no offside penalties that usually negate 99% of goals in regular conditions.  A 3-1 score implies that three Atlanta players fucked up their high-percentage shots, while Columbus needed only three goals to clinch the game.
I guess we know what ATLUTD players will be working on, on their taxpayer-funded training fields this offseason.
No big deal, instead the post becomes about how ATLUTD simply falls in line and joins the ranks of Atlanta sports teams who do well enough to be playoff contenders, but simply falls short at delivering championships.  Make no mistake, it doesn't downplay everything that the expansion team had accomplished, and the impressiveness of how much a city known for tepid sports fans actually embraced professional soccer.  It's really nothing out of the ordinary for Atlanta sports, but I really did have a brief fleeting moment of optimism that maybe the expansion soccer club just might be the organization different enough and new enough to not get caught up in city-wide curses to be the ones who just might break it.
But nope, same shit, different sport.  Add Atlanta United to the family of sports teams, and I further wonder if I will ever in my lifetime see an Atlanta team actually win a championship.