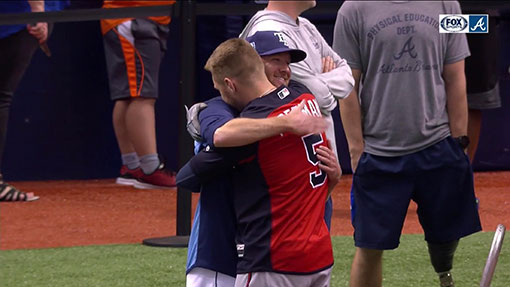 Vindication: Jonny Venters wins National League Comeback Player of the Year
In the grand scheme of baseball seasons are World Series championships, home runs soaring, Triple Crowns, batting title chases, and all sorts of accolades, records and honors (and sometimes dishonors) being pursued.
As far as the 2018 was concerned, there really was only one specific thing that I've remotely paid any attention to: the return of Jonny Venters.  By now, I've written tons of words about how happy and proud I was to see the story of a ballplayer absolutely refusing to give up, even after three and a half debilitating injuries and the surgeries that ensued.  And after year after year of heartbreaking setbacks, 2018 was the year where Venters gingerly approached the glass ceiling, before Shoryuken-ning through it and getting back to the Major Leagues, and sticking once back.
Frankly, given the fact that he started the season and made his comeback officially with the Tampa Bay Rays, before getting traded back home to the Braves, I'd say there should be some argument that maybe he should've won both the AL and NL Comeback Player of the Year awards, especially since a scrub like David Price ended up winning it, obviously on his playoff performance, contrary to the claims that awards are decided before they even begin. 
But such a wish is a pipedream for a player to win simultaneous awards in both leagues.  I just want Jonny Venters to get all the accolades, because frankly as far as comebacks are defined, nobody deserved the award more than him.
Either way, I couldn't be anymore happy and proud to see Jonny Venters formally recognized for his strength and perseverance.  Guys have won this award for less hardships, like bouncing back from sucking like Price did, or "just" a single Tommy John surgery.  But to come back from three (and a half) Tommy Johns??  Nobody's done that shit before, in the history of the game.  Frankly, Comeback Player of the Year doesn't really define what Jonny Venters accomplished in 2018, and I agree with these guys:
Who, more than Jonny Venters, deserves to win this award in 2018? He should win it for both leagues. The award, quite frankly, should be henceforth known as the "Jonny Venters Award."
I'll try to re-evaluate this in future seasons, to determine whether future winners are merely comeback players, or actual Jonny Venters.  I'd wager that much like the actual Jonny Venters, there probably won't be another, any time soon.  But that seems to be pretty appropriate.