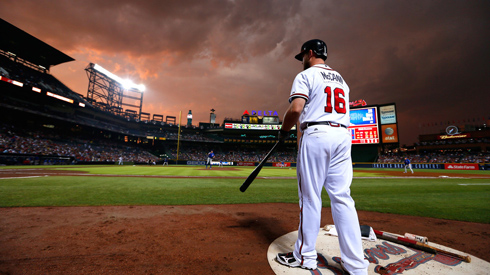 Brave Old World: Brian McCann returns to the Atlanta Braves after leaving the team five years ago
This news, brought a smile to my face.  Now I don't expect ol' Heap (a very insider hipster nickname for McCann stemming from the minor leagues) to inexplicably return to the form of the 22-year old All-Star that hit .333 and 24 homers all because he's back in a Braves uniform, especially since he's now 35 and very much on the declining phase of his career.  But it still makes me happy to know that Heap is coming home, because maybe it's just the fanboy in me, but it just never seemed right to see a guy like Brian McCann suiting up for anyone other than the Braves.
Don't get me wrong, I always rooted for him after he left, even when he was on the Yankees, and especially when he was on the Team of Destiny™ Astros, and I was very happy to see McCann, along with other Braves expats like Evan Gattis and Charlie Morton win a World Series.  But it often makes me happy when a guy who was a once popular member of the team, like a Jeff Francoeur, Jonny Venters or a Brian McCann, comes back to the fold.
It doesn't really matter that when the day is over, he's probably not going to be an All-Star again, much less even be reliably starting on a regular basis.  The traditionalist in me sees his value in that he's a steady veteran leader that brings a lot of familiarity with the organization, and a now championship pedigree to a locker room that might be able to benefit from his experience.
But most importantly, he's a local guy that was always beloved by the city of Atlanta, and him coming home, to try and help nurture and contribute this young and talented roster into more legitimate contenders, can only be welcome.  Oh, and it doesn't hurt that Josh Donaldson also signed with the team too.
Now if only the Braves could upgrade their pitching, 2019 could actually be a very interesting season.