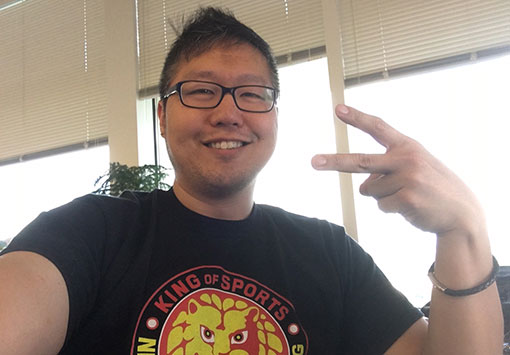 If I can pull the curtain back a little bit, whenever I sit down and write, there's no guarantee that the most recent thing I'm writing is actually the most recent thing that's actually happening.  Especially these days, I often times come across things or thoughts that spark the want to write, but I just simply don't have the time to write, because I'm always busy at work, and by the time I get home, I'm either too busy to write or too fried to write.
In times like those, what typically happens is that I have a cloud-based document where I jot down the date and the general theme of what was going to be written, and if there's any links that I want to refer to, that too.  And when I have the time and the motivation to do some writing, those are the things that I try to tackle first.  Typically, I don't like the queue to grow too big, because then it gives me anxiety and a feeling of being worthless as someone who likes to write.  But there are exceptions to the queue, where I start writing about something in the true present, because usually there's some degree of time sensitivity to where it's not something that I can go back and write about retroactively.  At the time I'm writing this, there are three posts queued up that I still want to write about when I get the time.
Right now, is one of those moments.  Because the last few days, I've been coming to the realization that a lot of the things I'm doing, are the last time I'm doing them as a single guy.  Yes, melodramatic me is actually writing about the slow farewell to single, unattached life, because I'm two days from entering the wedded bliss of holy matrimony, and getting married.  What started out as mythical gf became mythical fiancé, and now I'm about to have a mythical wifey, and I'm actually going to be somebody's husband.  Sucks to be them!
But anyway, it's a lot of little things that I'm doing that I'm realizing are the last times I'm doing them as a single person.  All throughout the week, I've had my final chest and tris day as a single guy.  My last time running on the treadmill as a single guy.  Today was my last bis-shoulders-hamstrings day.  As the weekend progresses, I'll have my last meals and drinks as a single person, and then when I'm at the altar, likely watching down at mythical fiancé coming down the aisle, probably looking radiant and beautiful, I'll be ticking down my last minutes and seconds as a single person.
And then afterward begins a new clock, moving in the forward direction, as life as a married man.  Sure, I know a lot of it isn't going to really feel that different than the last four years have been, but I'm still looking forward to a new world of "firsts as a married" with a wife, that I met and courted and got engaged to, and then slapped on the cuffs and married, on my own terms.
When I stop and think about our relationship throughout the years, I can confidently say that the underlying basis of just about all of it was simply the fact that everything continued to feel right.  Now I may be a big stat loving analytical geeky nerd, but I'm also one that doesn't discount the importance of believing in the importance of the oft-criticized gut feeling.  And from day the pursuit started, I maintain that ultimately, everything felt right, regardless of all the noise and chatter all around.  Asking her out at 4 in the morning in a parking lot, moving in together, proposing after four years, and as I'm sure it'll be when we say "I do," I'm looking forward to starting a very real new chapter in our lives together, and I can say with conviction that I have no real hesitations or doubts for how everything has transpired.
Does this mean I'm nervous?  Not at all.  There are no nerves in getting married to mythical fiancé.  Most of my recent stress is mostly work-related, or concerns over paying for a wedding that's gone over budget, or the simple fact that there've been three deaths in our respective families in the months leading up to the wedding, and it's a tricky balance of being sad from loss but excited about the future.  But nervous about getting married?  Absolutely not.
So all that being said, this is also my final brog post as a single guy, and I know the topic of me being single has been pretty prevalent over the last 12 years or so, but all that shit's coming to an end now.