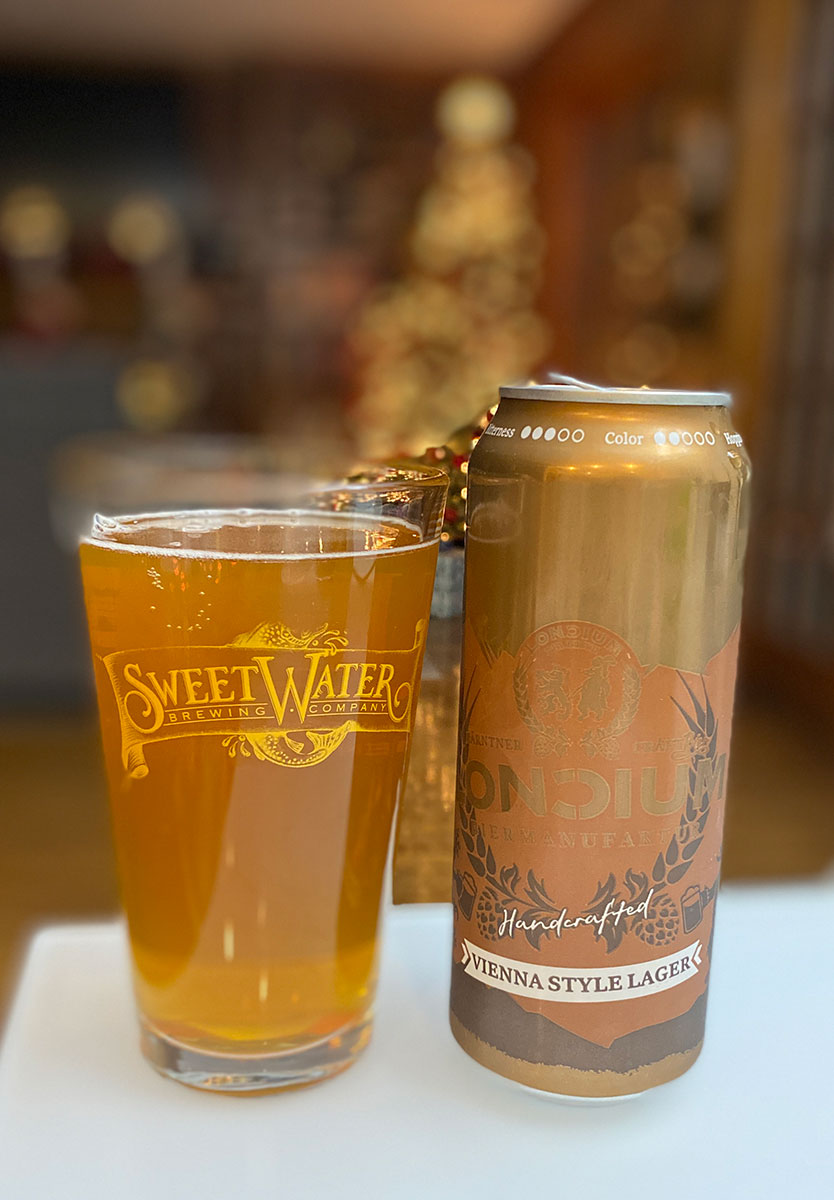 My first thought when I pulled this can out of the fridge was that this was definitely, had to be, a stout, porter or whatever dark beers there are out there. I mean the whole thing is as brown as a bar of chocolate with accents of other shades of brown on it. But then I'm examining the can and all the brown on brown and amidst all the words that can be made out is "Vienna style lager."
A lager? This brown ass can? Then my thoughts wondered on if there were even porters, stouts or dark beers even available in Deutschland.
In spite of the completely misleading can design, out pours a rich amber bier that is completely unexpected based on the way the can looks. Clearly, German aesthetics play by a completely different set of rules and fuck you for being presumptuous.
As stated, it's a lager, Vienna style. And I realize that I don't have a tremendous amount of experience with Viennese bier, despite the fact that I've been there before. It was Christmas time when mythical then-gf and I visited Wien, so we actually drank more mulled wine from boot-shaped mugs than anything else, but I do remember that we had some beer at a really really good schnitzel restaurant we went to, but it didn't really stand out too much.
Either way, this beer by some private brewery named Loncium, is very good. It's not too bitter, it's smooth and not too light but not too heavy either. It goes down smooth, and despite my fairly basic description of it, it's just that, fairly basic, but it's done so well that I feel no hesitation at ranking it in the upper half of my subjective novice rankings.
Looking at more information about this beer, it appears that the company doesn't even produce this beer anymore, which is a shame, because it's really quite good. Whenever I go to a place like Total Wine or one of those booze Walmarts that has a ton of foreign beers, I'd actually feel inclined to look for this if I were in the mood for snooty foreign beer.
Regardless, we're halfway through the calendar, and I still don't feel burnt out by this nightly writing, nor do I feel the need to cop out or cheat (yet). With 12 more days left, let's hope I can continue on with this, and I can honestly say that almost all of these beers were good in their own ways, with me enjoying nearly all of them, except maybe the last 2-3.
Current Rankings:
1. First Coral (#2)
2. Kirta (#5)
3. Turbo Prop (#6)
4. Perlenzauber (#9)
5. Loncium Vienna Style Lager (#12)
6. Jubiläumsbier 333 (#7)
7. Zwönitzer Steinbier (#4)
8. Grandl (#11)
9. Hell (#1)
10. Tannen Hell (#8)
11. Tradition (#10)
12. Käuzle (#3)