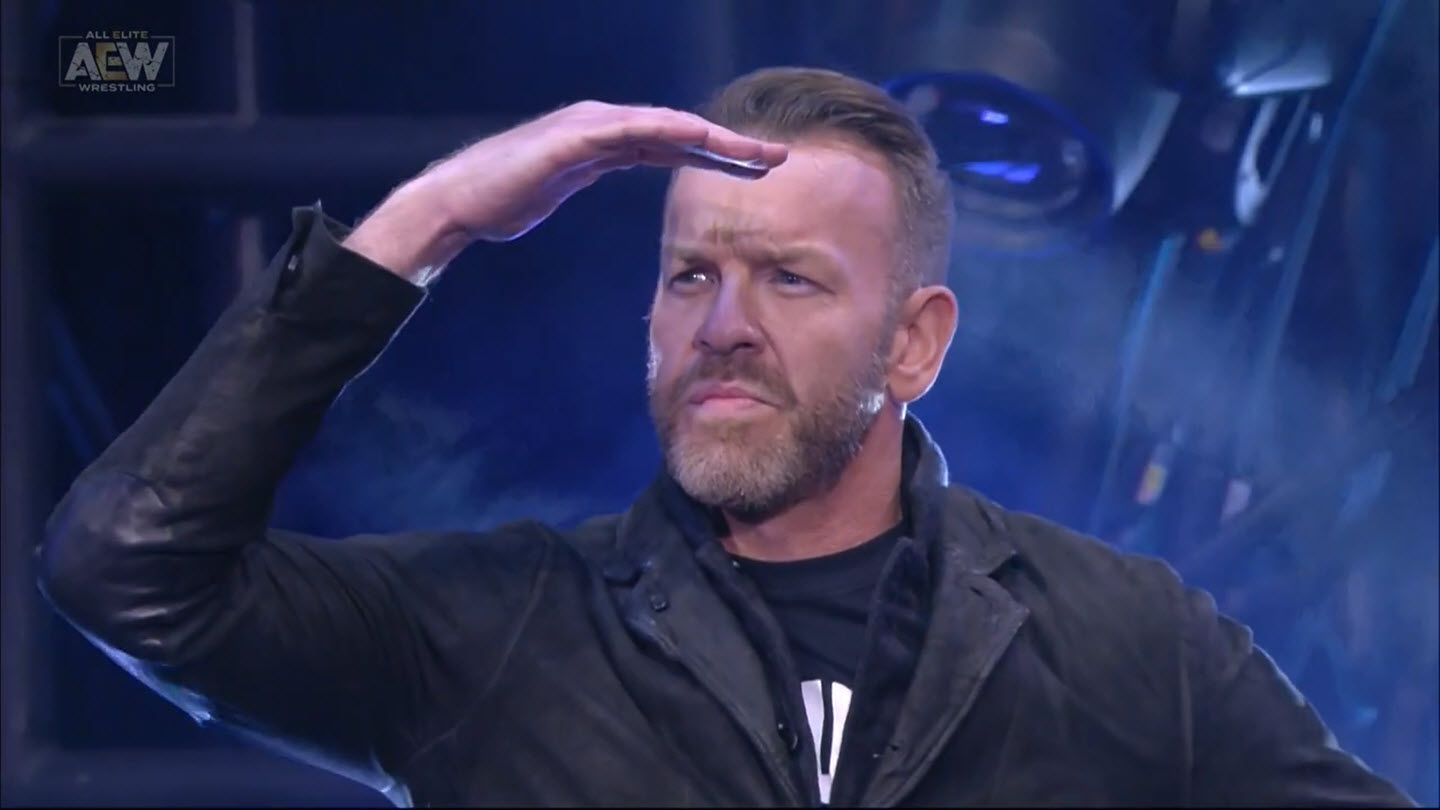 Although with each passing week, it stands to believe that it could very well be turning into TNAEWCW, based on the questionable decisions the company keeps making in spite of their bold proclamations that they are going to be the anti-WWE, not compete with WWE, and don't really concern themselves over what WWE is doing.
So Revolution was over the weekend, and although there's plenty to criticize about what seemed like a pretty wince-worthy show, there's one thing that stood out the most to me.  And no, it wasn't the embarrassingly pathetic "explosion" that was supposed to kill Jon Moxley that was set to the same timer that's in the background of the battle against Emerald Weapon from Final Fantasy VII because Kenny Omega is huge FFVII fanboy, because as far as the actual match itself went, it wasn't that terrible, and tried its best to harken back to the days of old Masato Tanaka matches in FMW, it's just the post-match shenanigans were pretty cringe-worthy bad.
Or the face of the revolution ladder match to which the prize at the top of the ladder wasn't a sack of money, the managerial services of Terri Runnels or a blet, but a giant golden ring that looked like the one that took you to the bonus stages in Sonic the Hedgehog, that was at least won by a guy with actual legitimate talent in Scorpio Sky, who really is one of the shining beacons of the entire promotion.
Leading up to Revolution, there was all sorts of buzz on the scuttlebutt about how AEW was going to reveal this big massive acquisition, and there were all sorts of predictions thrown about.  Some as grandiose as Brock Lesnar, some as wildly unlikely as CM Punk. My personal take was that since the W in AEW stands for Weebs, I figured it would be a Japanese wrestler that few in America had ever heard of, and since the so-called forbidden door is open between AEWeebs and New Japan, maybe it would be an on-loan Kazuchika Okada to threaten Kenny Omega in North America for a change of scenery.
And then there were the less-fun predictions of hardcore marks who actively scour and look for the contract status of active, or recently-retired-not-retired guys or potential free agents, out there like Kurt Angle, Christian, Marty Scurll or Tessa Blanchard.
All the same, AEW had successfully generated some buzz and hype, and even the most lukewarm of fans like me were remotely curious to who it possibly could be.
When it was revealed to be Christian, I literally laughed out loud.  As loud as a dad to a 1-year old in a nearby room could possibly laugh, but an actual, audible sound came from my mouth when I found out that of all the names that were thrown out there, it was a 47-year old WWE mid-carder who's biggest success in the big leagues came as a metaphorical substitution to an Edge storyline when Edge himself had to call it quits at the time due to neck injury.  A former TNA world champion at a time when that belt was passed around to other "TNA legends" like Bobby Roode, Bubba Ray Dudley and a pre-renaissance Drew McIntyre and Bobby Lashley.
Like, fans were hoping for someone like a Brock Lesnar, but instead got Christian.  That's like hoping your team will sign Peyton Manning but instead getting Alex Smith.  Wanting Trevor Bauer but instead getting Drew Smyly.  Hoping for a Willy's burrito but instead getting Moe's.  Wanting a Coke, but getting a Pepsi.  The metaphors go on and on, but the point remains, hoping for something major, but instead getting something minor.
Christian will impact AEW as much as releasing a squirrel into Central Park.  It'll scurry around, but then get completely lost in the shuffle and nobody will ever notice it again.  He will provide no impact to the promotion whatsoever because he's too old to work with all the high-octane young talent on the roster, doesn't have the moveset or in-ring capabilities to hang with those more creative, and probably won't get the necessary rub in order to work with the AEWeebs all at the VP level.
In his current juncture, he'll probably be a lot like Matt Hardy in the sense that he'll be fed to the uber-protected Hangman Adam Page, or he'll get fed to Orange Cassidy, but make no mistake that his acquisition pretty much solely exists for him to get fed to someone, because in spite of what AEW proclaims about their feelings about the WWE, they're going to take every chance they can to bury any WWE mid-carders that come over, like they've done with Tye Dillinger, Zack Ryder, Evan Bourne, and what they're unfortunately doing to Rusev as well.
That is unless… this is all part of a bigger, more grandiose scheme, and in the event that I actually have a reader, I must disclaim that this is the part of the post where I will go off the rails and discuss a wild theory that is obviously never going to come to fruition, but I'd like a fucking oracle if it did.
But basically, Impact Wrestling, formerly known as TNA, is basically Hydra from Marvel Comics.  AEW, with their fancy cable television deal and seemingly endless bankroll from the Jacksonville Jaguars, thinks they're being progressive and innovative by working with other promotions, and thought they were being charitable and being generous gods to Impact Wrestling, whom I honestly didn't even know were even still in business, since there was some weird bastardized divorce between TNA, the Carters, the Jarretts and then I guess spawned into Impact Wrestling on one end, and Global Force Wrestling on another but anyway.
AEW thinks they're helping boost and support a fledgling Impact Wrestling, but really Impact is playing AEW.  Slowly, they're infiltrating Tony Khan's networks and his baby federation, and we're seeing slight influences with guys like the Good Brothers getting substantial television time on someone else's show.  Kenny Omega is basically a brainwashed conduit from the slick-speaking Don Callis, who is experienced and wise in the business, and is stealthily gaining power and influence in someone else's promotion.
Former TNA/Impact talent starts getting signed to AEW, like Christian and Sting, and eventually guys like Samoa Joe and Kurt Angle will start popping up in AEW as well, former TNA world champions like Bobby Roode and EC3 will emerge, and before we know it, there will be some match where the Elite guys and some rando Bullet Club guys will be fighting Sting, and gradually there will be a moment where it's realized that suddenly in the ring, all the Weebs will be outnumbered by all these guys from the TNA days, and Don Callis basically declares the Hydra-like takeover of AEW by the ghosts of TNA.
And because AEW opened the door with cross-promotions like NWA and New Japan, the new Impact now has their tendrils touching those relationships, and next thing you know, guys in New Japan will be wrestling ladder matches for Sonic's ring and having all sorts of weird Blank-cup tournaments for no real prizes, while Kenny Omega and the Young Bucks will be having reverse battle royales.
Either way, it appears that in spite of all of AEW's promises for change and innovation, it looks more and more that they're basically turning into an actual TNAEWCW, which is a sad pathetic amalgamation of oldest, old and new, but all meeting the same fate – failure.
I would love to be proven wrong, because I do believe competition is what makes for great innovation, but when the day is over, the WWE really hasn't been challenged since WCW's 83 weeks of winning the ratings back decades ago now, and in spite of all of AEW's big talk, they really haven't done anything to move the needle of competition, at all.  And Christian sure as shit isn't going to help that.