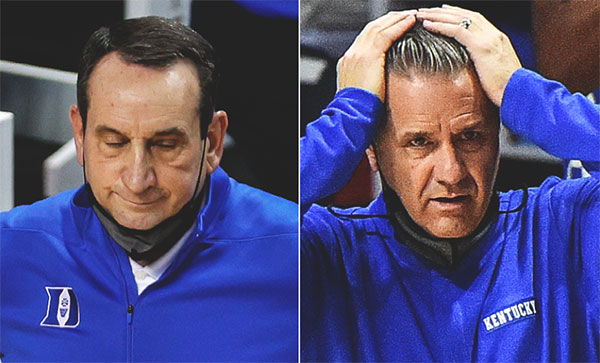 The only thing that sucks about both Duke and Kentucky missing the NCAA tournament for the first time since 1976 is that both of their blowhard coaches are going to be using coronavirus as their excuse for the fact that they just plain sucked; and because it has been such a devastating thing throughout the last year, or the fact that most people with brains know that sports probably shouldn't be happening in the first place right now, that they're both going to have an act of god-like rationale to justify it and chalk the 2020-21 season as some sort of asterisked aberration that shouldn't count.
However, make no mistake – coronavirus or no coronavirus, both Duke and Kentucky played like shit all year, and they are exactly where they belong right now as a result of it.  There's little reason to believe that either would have done any better if the world weren't currently in a pandemic, and if anything at all, there should probably be some suspicion to why they just suddenly sucked when there's no crowds, no extra noise or any other external factors that being in a non-pandemic scenario would have differentiated from.
Of course, aside from coronavirus, both programs will probably cite some key prospects opting out of the season, and I don't have enough shits to give to try and find out, but these are two of the most notorious hoops programs in the nation; at any given time, they'll have numerous 4-5 star recruits waiting in the wings, and for every one that opts out, there's probably another talented prep salivating in the wings to get on the court.
Either way, as a detractor for both overrated programs, it's good that neither are in the NCAA tournament, as reckless as it might be to hold in the first place.  Both would have undoubtedly gotten bounced in the second round if not the first, by like Florida Atlantic, UMBC or Louisiana Tech, so it's better for the NCAA to have those layup losses be filled by a potential Cinderella team from a non-power five conference.
But on that same note, for those who might actually give a shit and actually tune into any March Madness, we'll all be denied the smug satisfaction and gambling pool of when Duke and Kentucky get upset much less filling out a bracket in the first place.  As I said, I just don't give a shit to look closer, but in previous years, I always tried to earmark when Duke would get bounced, based on whom was in their region.  Kentucky, I often times gave a little more leash, but they were almost always bounced by the Elite Eight in any bracket I ever fill out.
Anyway, good on sports for Duke and Kentucky not making it to the dance.  Chalk one point up for supposed parity.  As for the rest of the college hoops season, none of it really counts or matters this year; that is, unless Virginia Tech wins it all, to which then it's the greatest season of college hoops in history, and they overcame tremendous odds and adversity to climb to the top of the mountain.  But considering their placement in the ACC tournament and still got bounced by the UNC squad that ducked them earlier in the season, I don't have too many hopes for that.