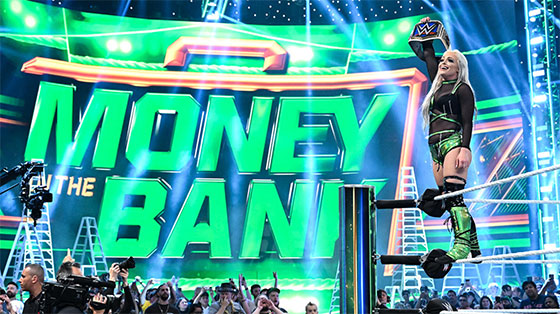 For the first time in my life, I went to an Impact! Wrestling show, as they had dates in Atlanta, and were also taping out of Center Stage, which is a fantastic venue to watch wrestling, and has a lot of history within the industry.  The tickets were cheap, and I was able to get seats basically three rows behind the ring, so it was a no-brainer to go see what is basically the #3 promotion in America.
And it was a pretty decent show, all things considered.  I got to see a lot of guys I'd mostly just heard of or seen just clips of, like Josh Alexander, Mike "Speedball" Bailey, Chris Bey and Ace Austin, and there was no shortage of names that I already knew from their days in old TNA or former WWE talents, like the Motor City Machine Guns, Mike Bennett, Eric Young, the Good Brothers and Mickie James.  Despite the general lack of respect Impact! gets, the promotion has a degree of polish that is missing from a lot of the lesser-known indy shows I'd been getting into over the last few years, and when the night was over, I was very pleased with my evening and money well spent.
I came home that evening and remembered that the WWE had a, well, pay-per-view event the same night, and considering the ease of being able to watch a replay on Peacock, I figured I'd try and watch at least the Money in the Bank ladder matches, while I still had no idea who won them yet, and before the internet would spoil the fuck out of them if I went on any social media channel.
Despite the feeling that I had a prediction that she would win, like my old Wrestling Oracle™ days, I was still very pleased to see that Liv Morgan won the women's ladder match.  Admittedly, I bought into the Liv Morgan story of the diminutive underdog who has persevered throughout the years, and in spite of the support of the fans, just couldn't quite reach the top of the mountain.  And by virtue of winning the Money in the Bank briefcase, Morgan was basically a shoo-in to eventually become a women's champion, as the women's short history of the briefcase has yet to have a single failure.
A little surprising to me, was the fact that WWE Creative didn't wait long with Liv, and had her cashing in immediately, the same night.  I say I was surprised, because just the way Morgan had been established, I didn't think there would be any real hope for her to have any chance of beating either Bianca Belair or Ronda Rousey, seeing as how she's undersized and overwhelmingly out-powered by both of them.  But I guess I shouldn't have been surprised, seeing as how women's MITB winners have held the contract collectively maybe a total of like, three days over the last four winners.  And despite my skepticism of how Liv Morgan would topple either champion, I was still very pleased and happy to see her pin Ronda Rousey and become the new Smackdown Women's champion.
And thinking about this moment, and some other isolated moments within the last year, made me come to the realization of why I still enjoy watching wrestling, even though it probably seems like I have an endless amount of criticism and complaining to do about the business: I really enjoy seeing when wrestlers I respect, and have admiration for their work ethic, actually succeed and get the hard-earned spotlight.
Like, I was just happy, when Dolph Ziggler won the NXT championship a few months ago.  Not super-mark out overjoyed that a wrestler I appreciate finally was getting a push, but just quietly happy, that a guy I always felt was a hard-working, reliable and impressive talent, was getting a big rub on television.  I was similarly happy when Miro shook all the tail-end Rusev crap he had to endure before going to AEW, and won the TNT championship and brought some much-needed prestige to the title.  More recently, I was happy to see Claudio show up at Forbidden Door and immediately get to work, because like many, I was all in on the Cesaro Section, and always wanted to see him succeed, even if it meant departing from the WWE.
Liv Morgan's victory made me feel the same type of happy, because I feel that I've witnessed the culmination of a superstar's growth, determination to succeed and someone who has been consistent and reliable for the better part of the last two years, finally be rewarded with a major championship moment, and it's refreshing and rewarding to see good things come to those who have put in the hard work.
It's funny too, because I remember the first time I saw Liv Morgan on NXT; aside from being a cute blonde that I immediately figured was like a future Alexa Bliss, I didn't really think there was much there.  She jobbed to Asuka in a short match, and frankly I didn't see her do much of anything else throughout her entire time in NXT.  Eventually, she would be called up to the main roster to be a part of the Riott Squad, where she was often times the unfortunate soul who had to eat the L whenever they were booked to lose, and then she had a kayfabe breakdown before vanishing for a creative makeover.
Her next few storylines weren't much better, being Lana's mysterious lesbian fling, a reunion with Ruby Riott, and sporadic hiatuses due to creative having nothing for her.  Frankly, there was a while where Liv Morgan was kind of the epitome of the wrestling cliché of talent that hangs out in catering, because I can recall quite a number of times of watching some WWE documentary, where in some random backstage footage, would almost always be a sighting of Liv Morgan, in street clothes and huge Harry Potter-like glasses.
Oddly, I felt the turning point in her career was probably when coronavirus ransacked everything, including the way the WWE had to operate.  Obviously, tons of talent stayed home and who was available was reduced dramatically, and it seemed pretty clear that those who lived in Florida or were closest in proximity to the WWE Performance Center, where all television operations had shifted to, were getting more time to showcase themselves, when the company needed to fill air time.
There was a particular show I remember, where Liv Morgan wrestled Asuka in the empty PC, and thinking it was probably going to be a glorified squash match, like the very first time I saw Morgan, wrestling against Asuka.  And also though Morgan did in fact lose the match, it was still about an 8-9 minute match, with Morgan getting a lot of her own spots in and I thought to myself, how much she has clearly improved and wasn't just a pretty face, if she could work like this.
Needless to say, her availability and willingness to work seemed to get her noticed and when she had a WWE documentary made about her, I was thinking that the company had something in her.  When fans came back into the equation, it was clear that they too had all noticed, and respect and appreciation for Liv Morgan had clearly grown over the months.
For me, it was the feud with Becky Lynch at the end of 2021 that made me realize just how much I wanted to see Liv Morgan succeed and become a champion.  Obviously, Becky doesn't get the respect she deserves for carrying a narrative, but it takes two to tango, and the two of them put on a series of impressive matches that were super easy to get into, in both storyline and match execution.
And here we have it, Liv Morgan, new Smackdown Women's champion, and I'm just plain happy and satisfied with the outcome, entirely.  I don't care if it's a short reign, or the start of a 200+ day reign, it just makes me really happy to see someone who has been working her ass off over the last two years, finally get rewarded with a big championship win, that nobody or the history books will be ever able to take away.  And it's moments like these, that I realize, are exactly why I still watch professional wrestling today.