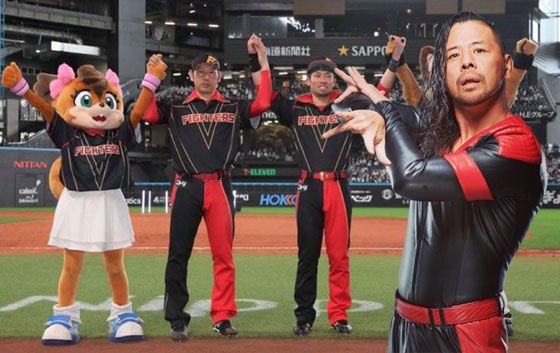 Credit goes to mythical wife for turning me onto this story, but out of the blue she asks me if I'd seen these baseball uniforms.  Obviously the answer is no, because I'm so buried in either work or parenting that I see practically nothing that isn't spoon fed to me through social media, and I'm disappointed in the algorithms that didn't feed me this one, because it's basically tailor made for my general interests.
But the Nippon Ham Fighters of NPB debuted some brand-new alternate uniforms, and naturally my first reaction is wtf, but very closely followed with the very obvious parallel that these look basically like one of Shinsuke Nakamura's signature ring attires.  I mean come on, the two-tone red and black everything, the plunging V neckline with the weird collars on it, it's straight up Shinsuke Nakamura all over it.
It turns out that these uniforms were "designed" by manager Tsuyoshi Shinjo, who's a pretty flamboyant guy in his own right, but I think it's safe to assume that he's probably a Shinsuke Nakamura fan, because there's absolutely no reason at all for a design like this to ever manifest from a baseball brand whose colors are primarily blues and golds.
Either way, upon seeing these horrible uniforms, it was inevitable that I couldn't avoid brogging about it, as well as photoshopping Shinsuke Nakamura onto pictures of the team in these hideous kits.  But apparently, new uniform luck still applies to these as well; from what I understand, the starting pitcher for the debut game ended up throwing a complete game shutout.  Perhaps the Lotte Giants hitters were confused about stepping into a batters box against a professional wrestler, and by the time they realized they were up against a pitcher, they were already behind in the count.
Maybe Shinjo can go ahead and get started with designing the kits for the 2027 World Baseball Classic, because nothing would be a bigger power move than seeing Japan's best players winning another WBC, all while cosplaying as Shinsuke Nakamura.  Imagine Mike Trout and Bryce Harper striking out to Shohei Ohtani wearing this get up. 
Legend status.