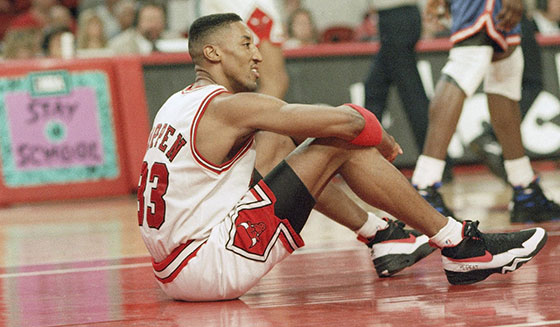 Fascinating: Scottie Pippen's ex-wife, Larsa Pippen comes out and confirms relationship with Michael Jordan . . . 's son
It's no secret that Michael Jordan was a pretty ruthless competitor in his playing days.  Although he seldom would admit to it, I think it was pretty obvious that winning alone wasn't enough for MJ, but to demoralize and destroy his opponents in the process.  If the phrasing of owning others existed during his heydays, MJ probably ended his career basically having owned the entire NBA.
However, usually MJ's ownage was limited to his opponents, most notably Patrick Ewing or any center who played for Georgetown.  It's not to say he didn't try to impose his will onto his own teammates present or past, but if there was always one guy that throughout his career was (mostly*) spared from getting owned by His Airness, it would've been the right-hand man, the #2, the Robin to Batman, Scottie Pippen.
*there are random clips out there of some exhibition one-on-ones between the two that never seem conclusive nor apparent that either were ever taking it serious enough, but MJ probably won those too
Over the last two years though, whether it was a ploy to help drive up buzz for his autobiography, or perhaps it was sour grapes over some of the narrative in The Last Dance, Scottie Pippen has been vocal and been saying some perceivably controversial things about his relationship with MJ, the Bulls, and his career in general, with not everything particularly positive.  Now Pippen has always struck me as a pretty bitter guy who holds grudges, but he's always been pretty silent in regards to his relationship with Jordan.  But I guess after nearly two decades from their peak playing days and no real chance for MJ to extract retribution on the court, Pippen has taken the gloves off and has decided to take some swings.
But no problem, MJ doesn't need a court or even a basketball to remind Pippen who god is.  In fact, MJ doesn't even need to do anything himself in this case, because his son Marcus is the one doing it, revealing that he's in a relationship with Scottie's ex-wife, Larsa. 
Honestly, more than likely this has nothing to do with MJ at all, but by virtue of being the blood of Jordan, he still gets credit for the ownage of Scottie Pippen.  I mean, this is an unprecedented level of ownage here, because it's not like MJ is the one nailing Scottie's ex, but his fucking son.  Obviously, Larsa Pippen** is older, but by virtue of being a glorified gold-digging Instagram model, still looks pretty amazing with a plastic body, is still a catch for Marcus Jordan, but it's a pretty crazy scenario where Scottie Pippen is getting owned by not just Michael Jordan, but MJ's kid, is the one railing his ex-wife.
**a more passive ownage is the fact that Larsa never dropped the Pippen name, even in divorce, from what I presume is her means to remain tanginally celebrity, but without having to put up with actually being in a relationship with Scottie
Obviously, the chances of MJ himself orchestrating this as a means for punishing Scottie for coming at the king are very slim, so much as it's happenstance of his son getting involved with a plastic cougar.  But it's fun to theorize the narrative that it was.  And for a guy like Scottie Pippen, who's always been kind of a bitch in life; being underpaid for an eon, could never win without MJ, is an infamously shitty tipper, and bitter about everything, it's just entertaining to see him get owned yet again, but on a level that seems pretty legendary, in the grand scale of ownage.