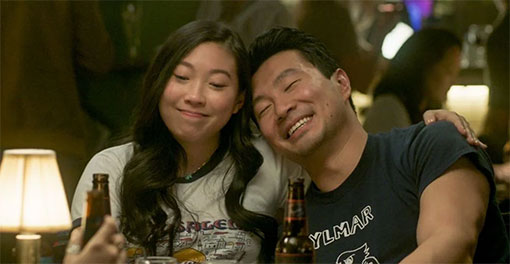 Funny how things work out: segment of internet looking-for-things-to-get-mad-about-people decide to get mad over Awkwafina's "blaccent," citing cultural appropriation, racism, hypocrisy or all of the above; and declare a boycott to Marvel Studios' Shang-Chi and the Legend of the Ten Rings.
I've actually never heard of the property Shang-Chi ever, until news of an actual Marvel film featuring Asian people began to emerge.  I have zero clue to the property, whether it features mutants, or supers based on myth, magic or cosmic, or if Shang-Chi ever crossed paths with any X-property, the Avengers, or even had a run-in with Juggernaut since it seems like at some point, everyone has a run in with Juggernaut.
That being said, I kind of wasn't really that interested in seeing it, because in spite of the equity that the Marvel Studio sand the MCU had built, it was beginning to feel a little bit like a checkbox situation where kind of like how Black Panther lit a fire under the black community, and based on how Crazy Rich Asians performed at the box office, Disney and Marvel decided to take a stab at tapping into the Asian community with a Marvel film, with an Asian-based story.
I wasn't interested in seeing what I thought was going to be the affirmative action of the MCU, even if it had the legendary Tony Leung in it, making me wonder just how many times if at all, showed up in American film.
But as is often the case, when news like this hits, and I see people on the internet acting like buffoons, all it really serves is to make me want to defy them and see their stupid efforts fail, and therefore go see Shang-Chi.  Not quite to the point where I want to risk my health and go out into a theater, but I definitely have some intention to watch this now, for sure.
I mean seriously, people getting upset over the way Awkwafina speaks?  Because she occasionally uses a black affect when speaking, as if the terms wiggers and chiggers haven't been a thing for the last 25 years, but is only taboo when a celebrity does it? 
Would Eminem have a career at all, if he showed up in this generation?  He's white and therefore should not be rapping, because that might be considered cultural appropriation since apparently only black people are allowed to rap and speak in a certain manner.
Anyway, my favorite part of the article was when they cited that this isn't the first time people had wanted to boycott Awkwafina:
It is worth noting that similar accusations of culture appropriate were lobbied against the Asian American actress when she voiced the dragon Raya in Raya and the Last Dragon, currently available on Disney+ and made 122.7 million USD at the Box Office 
So the SJWs didn't learn their lesson from Raya and they think they'll fare much better with Shang-Chi?  Yeah, I look forward to seeing just how much money Shang-Chi is going to bulldoze in when it drops, and see just how effective these so called boycotts are actually going to be.
Let's not even discuss the thousands of people out in the world that aren't Asian, but have some sort of Asian text tattooed onto themselves.  I'd wager there's a substantial overlap of non-Asians with Asian characters tattooed on themselves with those who are pretending to be outraged and claim they're going to boycott.
It's okay though.  The internet doesn't need to find out when these peoples' friends talk about how decent of a film it might actually be, and whether it's peer pressure, hypocrisy, or just being full of shit, they'll still watch it anyway, all the same.