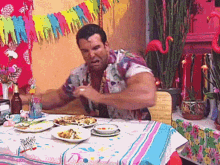 One of the pet peeves that I've developed is that it annoys the ever-living piss out of me whenever my kitchen counter becomes overrun with crap that really has no place being on a kitchen counter.  Purses, junk mail, kids toys, handbags, regular mail, kids toys, clutches, old mail that never gets opened, and kids toys come to mind as the most common things that end up on my own kitchen counter, and it always gets on my nerves when things are placed there "for now" and for now turns into until I lose my cool and passive aggressively relocate things myself.
The thing is, either nobody notices or nobody cares how much this annoys me, neither of which is good.  But it's not like I don't have reason to be bothered by it so much, because the fact of the matter is that I do the majority of the cooking, especially for the kids, and when I'm making things, I just want to have some space on the counter to do my thing, without having to worry about toys, junk mail or a bunch of purses getting in my way.  Fewer things are more irritating than setting everything I need out, and then having no room for the cutting board or a bowl, or a place to just set an immediate need down.
But no matter how many times I clean the counter, relocate everyone's shit and getting the surface nice and clear again, it's only a matter of time before it just gets all overrun again.  Somewhere in time, it became as human nature to throw all your shit on the counter when you walk in the door as going to the bathroom first thing in the morning, because it usually only takes 1-2 days of people coming in from outside for the counter to get covered up with everyone else's shit again, and then I get annoyed again, and this cycle repeats itself over and over again.
I came to the realization of the perfect analogy for the kitchen counter, which is that it's just like playing Animal Crossing, and the endless chore of plucking weeds throughout your little islands.  It requires endless maintenance, and every day you let go by without tending to it, the worse it gets, and because my life is already packed to the brim with bullshit tasks and chores, sometimes I don't always get to assessing and cleaning the counter every night.
And when the counter does get overrun, I just feel dejected, disappointed and annoyed, and after there are 10+ weeds all over the place, I just wish that that ghost from Animal Crossing would show up and clear everything from the counter for me magically.
But even that would be just a temporary fix, because in only a matter of days, the mess would just respawn, and I'll be having a bad day as it is, and then I'll try to make the girls a meal only to have all this shit all over the place and I'll just get pissed all over again.
The thing is, I know this frustration is not limited to just me.  And I guess I shouldn't be surprised to hear just how many people share this frustration, but again, somewhere in history, it became a reflex for people to throw all their shit over the kitchen counters.  It's gotten to a point where I'll judge television shows now, that the most unrealistic thing about portraying a modern household is if the kitchen counter is clean, because I'm just not convinced that Americans are capable of living without countertops overrun by a whole bunch of unnecessary shit that doesn't need to belong there.