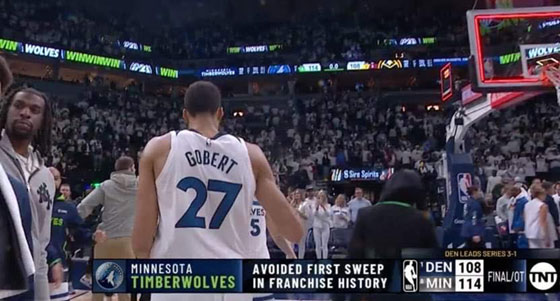 They avoided getting swept!  They may as well be NBA champions for demonstrating such guile and determination and defeating the mighty and championship pedigree of the Denver Nuggets to stave off elimination.
This, is the very definition of lowered expectations, and precisely the instance why I actually have a tag in my brog entitled "lowered expectations."
Sometimes, the NBA is just so hilarious at how soft and silly it's become over the decades.  There's so much noise surrounding the entire league, that the actual act of playing hoops seems so almost tertiary.  It is entirely possible to get sucked up in the drama and storylines of an entire NBA season and not actually watch a single game.
But back to this hilarious screen grab, it's perfect on so many levels:
First, it's not even remotely accurate that the Timberwolves avoided getting swept for the first time in franchise history; back when the playoffs were still best-of-five, the Wolves were swept in both 1997 and 2002, but the NBA for some reason likes to disregard the BO5 era unless it's in support of whatever narrative they're phishing for.

They act like the Wolves getting swept would be some sort of monumental history or something; Minnesota isn't an OG NBA franchise, having come into the league in the 1990 expansion, but in 30+ years, they've only made the playoffs 11 times. That's literally 33% of the franchise's existence they've gotten into the playoffs, and of those 11 times, only once have they gotten out of the first round, and that was Kevin Garnett's MVP season.  Otherwise, the Minnesota Timberwolves are definition of a middling pretender that may never actually win an NBA championship ever.

Rudy Gobert being in the frame is like the cherry on top, because I can't say that I follow the NBA much, but whenever I do hear about the NBA, Rudy Gobert's name has come up a surprising amount, and it's almost never in a good context. This is the guy that was the league's Patient Zero when COVID started, but not only did he deny coronavirus, the guy dared the world to give it to him, and he made a spectacle of rubbing microphones and tried his best to get it, and by golly did he succeed.  As soon as he tested positive, the NBA shut down shortly thereafter.  Oh, and just a few weeks ago, the Wolves ended their season with Gobert getting into a fight… with a teammate.  Real smart guy, that Rudy Gobert is
Whatever though, let's hear it for the Minnesota Timberwolves for winning the NBA Championship after 33 long years of operation staving off getting swept because they're totally going to be the first franchise in NBA history to ever come back from an 0-3 series deficit, and that statistic, is very much factual with no asterisks or caveats.  Maybe the Wolves can build on this grandiose achievement, and perhaps in 22 more years, get knocked out of the first round in game six instead.  Progress!