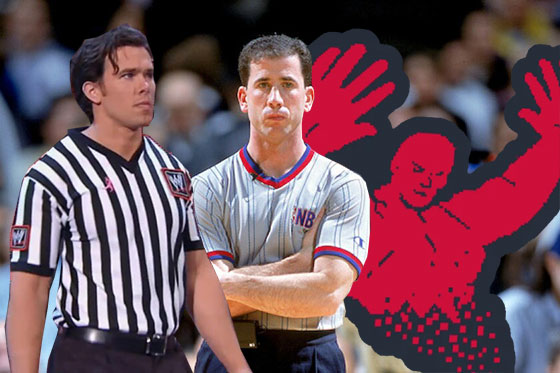 I'm pretty sure these guys were the officiating crew in Lusail this morning.
Obviously, I didn't watch because fuck getting up at 5 a.m. to watch a game I have no interest in, but I was curious enough to check the score while I was preparing the girls' breakfast, because frankly I thought Argentina was a strong contender to win it all.  Lo and behold, the crooked number was next to Saudi Arabia, and I'm just like wtf?
Naturally, the red flags start popping up in my head, because on paper there was absolutely no way in hell's hell that Saudi Arabia should have any business defeating Argentina, much less competing with them in the first place.  But being in Qatar, the Islamaphobic conspiracy is that the royal family or something must clearly be paying off the refs or something in order to buy wins for the Saudis.  Sure, they still had to get the ball into the net a few times to equalize the great Messi and then take the lead, but some outside interference could help with that.
The game summary was especially interesting, because after the Saudis took the lead early in the second half, the six yellow cards that were issued to them throughout the rest of the game clearly says that they were not being shy about physically defending their side of the field, and took it too far multiple times.  The ten offside penalties by Argentina probably says they were pressing, and bad officiating will call offsides if someone farts on the pitch.
My favorite though is the fact that Saudi Arabia only took two shots on goal, and they both happened to go in.  That truly is some Game Genie-like luck and accuracy, that I'm hard pressed to believe that even the greatest teams in futbol history have ever achieved.
Regardless of all the skepticism and bad jokes, the reality is that Argentina still shit the bed and suffered probably one of the most humiliating upsets in World Cup history.  Whether they were completely looking beyond the team in front of them, or maybe some of their 900 kilos of imported meat to circumvent Islamic restrictions went bad on them, but the fact of the matter is that no matter the interference and impartiality of the officiating, they still let a tremendously inferior team get the ball into the back of their net twice.  
They're in one of the weaker groups, and on paper, should by any right still make it out, but they've got no more breathing room at this point, but historically some powerhouse always gets owned in groups, and based on this clown car performance, it might just be Argentina, regardless of they were tampered with or not.