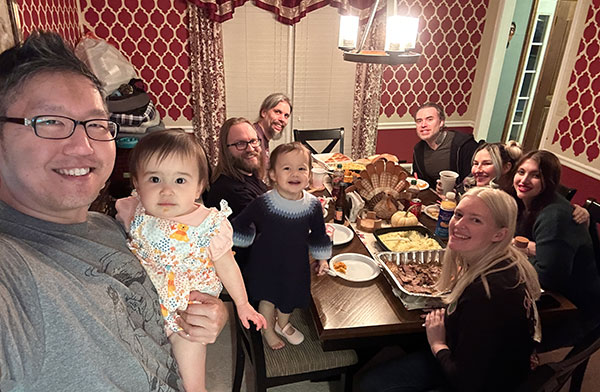 I am thankful for this photograph coming out pretty decently.  Through Facebook memories, I've seen pictures of past Thanksgivings where I remained home with my group of other vagabond friends who didn't travel or have local family in town and we always got together for evenings of traditional Thanksgiving food, games and eventually Brack Friday shopping.
Then I got married, had kids, and it's been a minute since we had a traditional Friendsgiving.
I called an audible this year, and made the choice to stay home for Thanksgiving this year.  With three adults and one child that no longer qualifies for lap travel, and no real place for us all to stay whilst up in Virginia, the idea of going up for Thanksgiving seemed like a colossal clusterfuck, so I made the call to forget the plan and just stay in Georgia in the comfort of our own home.  
I just didn't want to sink a boatload of money on a trip that was going to stress me out when I could've gotten the same results staying at home.  Needless to say, the tone of this post is probably going to go downhill really fast now.
Because aside from the obvious things, like the health of my kids and having a better job than my old one, I can't really think of anything that I'm thankful of this year.  I understand that putting such a sentiment in writing makes me sound like a bitter and miserable person, but at the same time all of the above isn't really that inaccurate.
My job doesn't burn me out on a daily basis, but the rigors and daily tribulations of parenthood more than makes up for it these days.  Even with an au pair that is like a gift from god, there's still way more time than I want where I'm on double duty with both girls, and it's just so tremendously difficult to manage a toddler and an infant at the same time.  It always makes me feel like a failure, because I can't really give any one of my kids quality attention because I've always got to remain on defense that one doesn't hurt herself while trying to man the other, and it fills me up with resentment when I logically should not be on double duty but I am anyway.
I am so burned out on a daily basis that people in HR would probably be willing to extend me a little leniency.  I haven't had a proper or adequate break from being in this stage of dad mode, and I think I might be headed towards a breakdown if I don't.  I love my kids more than anything in the world, but the day-in and day-out responsibilities that they are, and the fact that I get less than 2-3 hours a day to unwind unless I want to jeopardize sleep and being even a shittier dad the following day never helps.
Even trying to be introspective and analytical, I genuinely don't feel anything to be thankful of otherwise this year.  I'm just so perpetually full of piss and vinegar that I have no thanks to give.  I am on an island where maybe one or two other people I know probably understands what I'm going through, and my mood swings are becoming more scathing and bitter the longer this continues.
I probably need therapy, a solo vacation wouldn't hurt, and maybe stopping saying I'm fine when I'm actually filled with anger is a good idea too.   Maybe a Fight Club-like cry session would help.  But none of these seem particularly feasible without clashing objectives and wants, so I'm just left in this bitter mass of existence within myself where I can only hope to find solace in the little things and try to convince myself that they'll make everything alright.