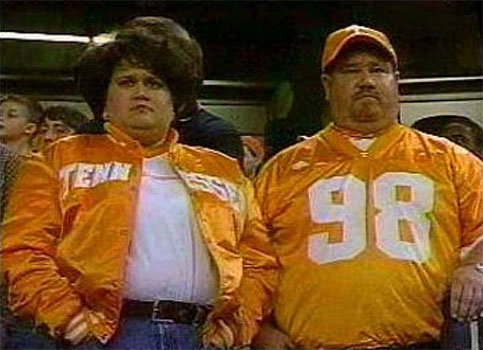 ICYMI: South Carolina defeats #5 Tennessee, 63-38
Man, this game is proof of the power of sports.  I had a pretty rough day, having to be on double duty all morning with the kids, and while they were down for their afternoon nap, I took my wife to the airport, and got obliterated on the way home in traffic, enraging me to thinking Thanos had a good idea, and how lucky the 2% of people who vanished in The Leftovers must've been to have been on a version of Earth without 98% of the population.
All I wanted was for the kids to go to sleep without too much warfare, and perhaps have a quiet evening where I could veg out and watch more television from my listed queue.  Instead, I caught wind that unranked South Carolina had hung 21 points on overrated #5 Tennessee, and I was like hmmmmmm and decided to watch, and hope for the upset; seeing as how my interest in South Carolina is merely in-law, but an opportunity to see Tennessee lose made it feel like it was kind of a no-lose situation for me.
Three hours later, my mood is uplifted, and the aggravations of the day earlier are melted away as ESPN cameras begin monitoring the crowding of the students section of Williams-Brice Stadium, after the inevitable upset is complete.
Seeing Tennessee get obliterated, and effectively dashing any remaining hope for playoff contention is the real win here.  Hendon Hooker demonstrated that his mediocre tenure at Virginia Tech was not the fluke, but his performance for Tennessee was, playing way over his head for an equally overrated and ballyhooed program as the Volunteers are in the SEC as Tech often had been in the ACC.  Instead of blowing out the unranked Gamecocks and making a case to leapfrog the Horned Frogs who needed a last-second field goal to beat Baylor, Tennessee will undoubtedly drop out of the top-10 outright and might not even get a New Years Six bowl.
South Carolina winning, and it pleasing my in-laws is merely the cherry on top. 
Spencer Rattler, oft-being labeled a bust after his much-hyped transfer from Oklahoma exploded on Tennessee like Soldier Boy from The Boys, throwing a double hat-trick of touchdowns that even Al Bundy would have to scrunch his eyes and tilt his head over.  If he performs similarly next week and the Gamecocks can upset Clemson, it'll have to be one of the more legendary finishes to an otherwise adequate season.
But what a game though, really.  Who doesn't love a good upset, regardless of the loose skin I might've had in the game?  Sure, I don't like Tennessee and I am not a fan of turncoat Hendon Hooker.  But my in-laws are all South Carolina fans, and I like Shane Beamer being the son of Frank Beamer, and it was a treat to see that ol' Frank was there to revel in this win. 
Speaking of Frank, it was also nice to see that Virginia Tech didn't lose eight in a row.  Hard to believe a win against Liberty would be considered such a massive upset, but it also equalizes when they upset the Hokies in Blacksburg just a few years ago.
It was touching to see that both teams, and as I realized, all across the CFB landscape were wearing UVA stickers on their helmets to show solidarity and honor the victims of the senseless deaths and gun violence from earlier in the week.  Regardless of my personal team allegiances, nobody ever likes to hear of anything like that, and it seems pretty unprecedented that it hit multiple, active, student-athletes, whom people literally saw on television just days prior.
All in all though, this was a good example of just how effective sports can be, at being able to make a difference in the lives of people.  For me, it was a great catalyst to improve my day, for some, it's a reminder of strength, solidarity and mourning, and for many in South Carolina, this is probably one of the better days of peoples' lives.  Yeaahhhh sportsball
And as the subject says, I will never not enjoy seeing Tennessee lose.  Even when they're back to being the middle-of-the-pack SEC East program they are, or when they're having shitty years, but it's even better when they're completely overrated, and brought back crashing to reality.