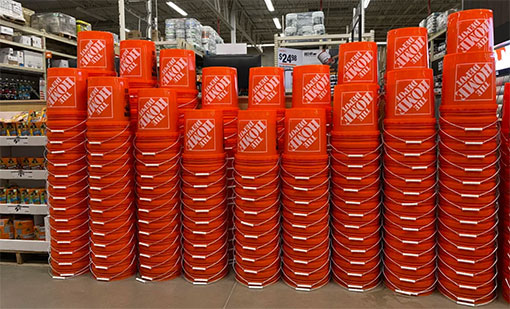 That'll get the brand out there: US border agents uncover $4.6 million dollars' worth of meth hidden inside of numerous The Home Depot signature buckets
That's one of the downsides of slapping such prevalent branding onto very useful and utilitarian things like 5-gallon buckets; occasionally, someone's going to do something bad with them, and next thing you know, your company's name is being mentioned in the same breath as terms like "methamphetamine" and "cocaine."  Then there will be all sorts of people who will waltz into a Home Depot over the next few weeks and point and snicker at the stacks of 5-gallon Homer buckets for sale at every store in America and wonder if it comes with any meth.
Forget about the hilariously futile attempt by some shitty drug runners to try and hide 216 lbs. of meth inside of a couple of buckets, because that's a lot of fucking meth to be hauling inside of a single Ford F-150.  I mean seriously, didn't they watch Breaking Bad?  Gus Fring barely smuggled like 2 lbs. of meth inside of entire shipping trucks, and that was dunked inside of fry batter and hidden among 100 other buckets inside of a refrigerated truck.
It's the fact that they used Home Depot's bright-ass orange buckets and thought nobody would notice these plastic cylinders that are brighter than the fucking sun, and maybe hoped it would be so obvious that nobody would look, but then they tried to smuggle over 200 lbs. of likely shitty pre-Walter White grade meth over the border.
Regardless, I had to smirk and laugh to myself when I saw this story, because inadvertent as it may be, it's impossible to not disclose The Home Depot's name when describing this story, and I like to think that somewhere at HQ, sure they're not worried about it affecting their bottom line, but still wince and cringe at the simple fact that their brand, name and identity is momentarily attached to drug runners, meth and trafficking.
But hey, there's no such thing as bad advertising, right??