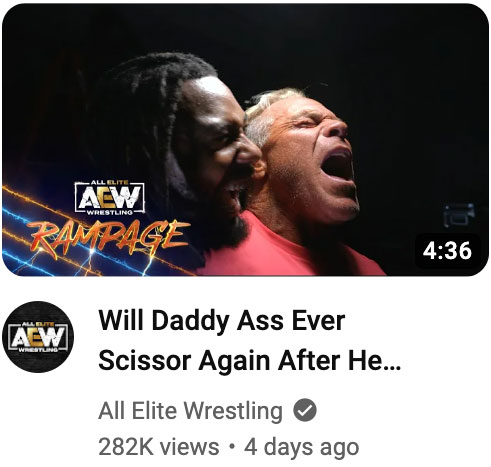 It's not that I don't want to watch AEW when it airs, it's just that I'd rather be doing one of the fifty other things that I could be doing with what spare time that I actually have when I have it.
Typically, highlight packages on YouTube are how I best keep touch with the pulse of wrestling, and when things seem compelling enough, I'll look for video on demand or make a conceited effort to watch. 
Needless to say, that very rarely happens, and it's not just with AEW, but with WWE as well.
And then I see things like this populate on YouTube, and I'm left scrunching my eyebrow and thinking [title of post]?
I kind of feel bad for both the guys in this very unfortunate pairing of thumbnail and subject line, regardless of it were deliberate or not by the digital media team of AEW.  Billy Gunn probably watched with a tear in his eye and piss and vinegar in his mouth as D-Generation X celebrated some 25 year anniversary on a very recent edition of RAW, and Swerve is probably just another of many former WWE guys who is feeling increasing regret over being quick to jump to AEW after their releases from WWE before Hunter came back.
And now one of them is kayfabe abducting the other in a strange storyline where four black guys are clumped together, fighting each other, seemingly over an over-the-hill white man who once made a name for himself as Mr. Ass, but because he's at the elder statesman point of his career, he's now "Daddy Ass."
I've said it once, and I'll undoubtedly say it thousands more times, if there are ever reasons why I'll always have a hard time taking AEW seriously, this is definitely one of them.