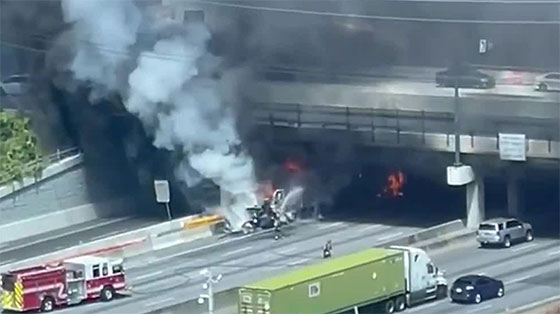 Ordinary news: massive accident on I-285 shuts down the entire interstate for 10 hours.  Brog news: tractor trailer involved in the crash was carrying beer
As the subject line reads, it's been a while since I came across a story about a truck crash on Georgia's highways.  Obviously I live under a rock and don't really keep my eyes peeled for these, and in all fairness, it was mythical wife who came across it, and it didn't really pique my interest until the mention about the part where the tractor trailer that was involved in this whole fracas, was carrying beer.
Not that it really matters anymore, because I'm long past the days of where I had intrinsically remembered every type of consumable that had spilled onto Georgia highways, but still, it's always a tickle to go back in time a little bit to find some inspiration to write on account of booze spilling all over the roads.
The thing is, where this crash occurred, at Ashford-Dunwoody on I-285, this is probably one of the most infamous exits in the state.  Not only is the specific spot a logistical disaster nightmare zone, because it's close to where GA-400 intersects and that's a state route that will never seemingly get its shit together or never not be tampered with at any given point in time, for whatever reason, shit just keeps happening here.  Most notably, a few years ago, it's where an armored truck carrying like $385,000 or some large sum of cash, the doors just popped open and people were basically getting out of their cars in the middle of traffic to try and snatch as much cash as they could, regardless of how illegal it was to do so.
The details of this entire thing are what was the most compelling thing about it, regardless of the presence of beer.  The fire apparently raged so hot, that it created all sorts of structural concerns of the asphalt as well as the integrity of the bridge that it occurred under.  Obviously, it hasn't been that long since Atlanta was the laughing stock of the country again, for the whole I-85 bridge collapse, and I'm sure GADOT was having flashback and PTSD about the risk of something like that happening again, so they clearly erred on the side of caution when they shut down the highway to assess the damage, lest the bridge over I-285 collapsed, taking out a pretty substantial surface street vein.
All things considered, it was no Japan fixing a lake-sized sinkhole in 7 days impressive, but the fact that GADOT was actually able to get I-285 up and running again in 7 hours is still substantial and for 'Murican standards, pretty impressive.