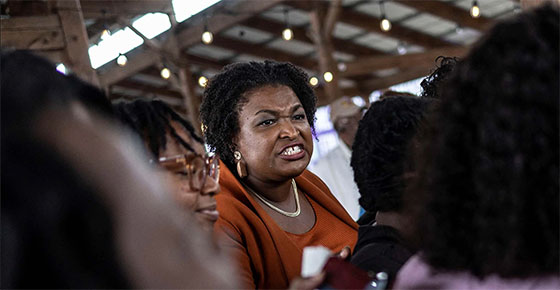 I never wanted to be a person whose gave much concern over politics, but maybe it's a symptom of getting older, or the world is just getting so progressively fucked up that people like me are organically becoming more aware of them, but I've found myself caring enough to the point where when the political season starts heating up, I feel the need to ignore everything, because I care, and I'm treating the whole thing like how I treat sports game that I'm vested in.
That being said, I can't say that I'm the least bit surprised at the results of Georgia's political battleground, namely the two key races that most people have been paying attention to.  Despite all of the available facts out there, Georgia unsurprisingly embarrassed themselves on a national stage, by having a legally brain-dead Hershel Walker garner so much voter support, that his deadlocked race against Raphael Warnock is now headed to a dreadful run-off race next month.
To my recollection, Democrats haven't won a single run-off since I've lived here or paid any attention to, so instead of losing in November, Warnock seems destined to lose a bigger and more scrutinized race in December, because from what I can observe, the Democratic party can't seem to put together a single winning strategy against the formulaic low-fruit smashing tactics of the GOP.
But the main point of this post is about Stacey Abrams, who lost for the second time to Yosemite Sam for governorship of Georgia.  I can't say that I'm at all surprised by this outcome, but I was hoping that Sam's bickering with the orange guy in 2020 would have done enough damage to him to where it might have shifted some voters to not vote for him, but when it really comes down to it, and the exit polls kind of confer, Stacey Abrams being both black and a female just makes it way too hard to overcome both racist and sexist reflexes of the Georgia voters that actually decided to vote.
According to census numbers, Georgia has about 7 million people who are of voting eligibility, but only about 4 million people actually voted.  Obviously, this isn't to say that both Abrams and Warnock's chances of victory would have been improved by any stretch of the imagination, but it's still frustrating to learn that nearly 3 million people just didn't vote at all.  If I'm a Hershel Walker supporter, I'm just as frustrated by this, seeing as how the margin of voters between Warnock is what's sending this to a run-off in the first place.
Either way, to no surprise, Abrams is taking her loss with dignity and class, as was the case the first time around.  She vows to continue to fight for Georgians, and is saying all of the right things that those in the political career should be saying.  But honestly, if I'm Stacey Abrams, and life were actually professional wrestling, at this point I'm fucking sick of Georgians, tired of trying to win Georgia, and I'm turning heel on the state and vowing to move onto bigger and better things.
3 million motherfuckers not voting at all?  What's the point of Fair Fight when there are a bunch of people who just don't want to fight at all?  Twice now, Georgians have left Stacey down by not turning up to the polls, and she's basically had to eat a shit sandwich twice over now.
Abrams is no stranger outside of Georgia too, as she was one of the names that was on the short list of potential Vice President candidates.  Who's to say that after jobbing twice to Dutch Mantell that she just stops giving a fuck about Georgia and doesn't move on to bigger and better opportunities in Washington? 
Frankly, I think it would tickle me delirious if Stacey Abrams were to go have a press conference on WSB to announce what she's going to do next, and unleashing a scathing promo on the state of Georgia, that she's sick and tired of trying to prop this sexist and racist backwater state up to civilized standards, and that she's peaceing the fuck out of here, before dropping the mic.
As she gets down from the podium, a bunch of white rednecks in UGA sweatshirts are seen throwing Bud Light bottles and toilet paper rolls onto the stage, like a 1998 episode of WCW Monday Nitro.
At this point, I can't say I'd blame her.