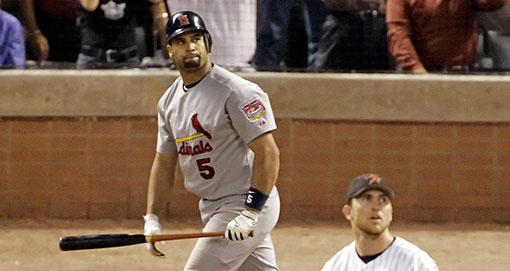 I haven't been paying attention to baseball enough this season to know just how poorly Albert Pujols has been.  I mean, I knew he was very much on the decline phase of his career, as Father Time is undefeatable and even the deity-like Albert Pujols would eventually meet his maker as well, but I was still pretty surprised to see when the news broke that Pujols was going to be designated for assignment, which is a way to say released, by the Angels.
I mean this is Albert Pujols we're talking about; as much as I was amazed by him throughout his career, he just seemed like one of those guys, that if anyone were going to show any ability to stand up to Father Time, it would had to have been him.  The guy has over 600 career home runs, only behind Hank Aaron, Babe Ruth and two cheaters, has over 3,000 hits and has won multiple championships, which makes him an easy first ballot Hall of Famer, and these are the guys that tend to play forever.
But like I said, time catches up to everyone, and even the almighty Albert Pujols has reached the end.  I just never thought he would ever be someone who would have gotten DFA'd, but that just goes to show just how much the game has changed these days, and the Angels, no matter just how much talent they amass, just can't seem to ever succeed, but by DFAing Pujols, they seem to think that there's a chance to turn things around despite being last place in the AL West, instead of letting Pujols have a farewell tour, like many of the greats before him have had.
Regardless of the baseball geek logic and arguments, there's no way Pujols ends his career this way right?  He's totally got to go back to the St. Louis Cardinals, right?  Sure they're currently in first place, have Paul Goldschmidt at first, and have literally no need for Albert Pujols, but I'd be hard pressed to believe the vast majority of Cards fans wouldn't want to see the prodigal son return to St. Louis.
Either way, I don't really care so much as this is more of one of those icons of a nostalgic time makes the news and gets my mind churning.  About nostalgia.  Because Albert Pujols totally needs to go back to the St. Louis Cardinals, and despite how much I dislike their squeaky clean franchise, it just seems like a storybook ending that could possibly happen, in spite of logic.
Man though, this is just all also a reminder of just how much time flies.  I remember when Pujols signed with the Angels on a ten-year deal, and hearing that this was the final year of said deal, I'm just kind of like wtf, it's really been ten years?  When I was a kid, there was a big deal when the Washington Bullets signed Juwan Howard to a seven-year deal, and how sad I felt when he almost left before coming back to D.C.  An eternity later, I was living in Georgia, eating out at a restaurant on my own dime, and seeing a Houston Rockets game on television, where Howard was coming off the bench, and was in the last year of that same deal.
Now, I'm seeing the ends of ten-year contracts as if they're single seasons of a Netflix show, and the professional athletes I've watched play their respective games are aging and deteriorating at a rapid pace, and I'm once again reminded of just how fast time seems to fly the older I get.  I feel like in two years, Ronald Acuña, Jr. is going to be 38, playing first base and relying on nothing but home runs to justify his existence in MLB.