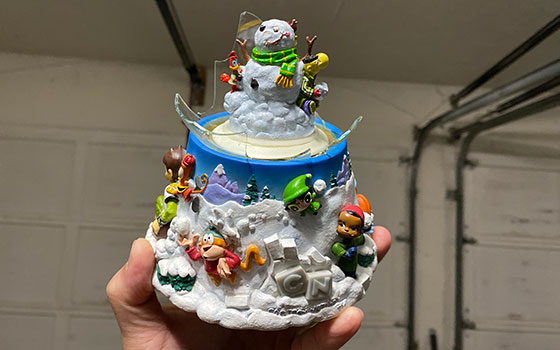 This photo here is of the remains of a snow globe that I've had for the last 14 years.  It was one of the few mementos I had from my time working for Cartoon Network, which to this day is still one of the feathers in my cap of my career, because I enjoyed my time there greatly, and I got to do a lot of noteworthy projects while working there.
As a freelancer, it was always hit or miss on whether or not I got to take part in any of the company perks.  Sometimes I was allowed to attend company functions, other times I was the guy that was needed to be in the office while the actual Turner employees got to.  Sometimes I was privy to swag, other times there was an air of exclusive gate keeping from the lowly hired guns.
However, this snow globe was one of the few things that I was allowed to have, and it was something that I did treasure to some capacity, long after my time at CN came to a close.  It was something fairly tasteful, branded so I would always know where it came from, and most importantly, it was exclusive.  These were only given out internally, and were not available to the public.  Those who have them, are Cartoon Network people, and it was something that I took pride in having of my own, because for the two years I was there, I was all in, wanting to be a part of the team.
Honestly, I probably should've moved it at the very first evidence that #1 was capable of reaching it.  Naturally, as my children grow, stand upright and become increasingly mobile and mischievous, the need to childproof things rises and rises, commensurate to their level of physical access.  And prior to this incident, I knew she was capable of reaching it, as she had done so numerous times already, but in the past, usually I've been readily present to be able to prevent her from harming any of the things on this particular piece of furniture, but as is often times the case with toddlers, it only takes a second and a foot apart for destruction to occur.
In some regard, I suppose I've been fortunate to have gone as long as this, for my kids to have destroyed something meaningful to me.  29 months since the arrival of the first one before any of them managed to find the moment of weakness in which they could inflict some damage to some personal property that's relatively extremely difficult and costly to replace, seems like it's been a fairly decent run.  But as the subject of this post says, it was bound to happen, eventually, probably.  Kids are kids, and sooner or later, they become destructive, whether it's a phase or just an accident.
More importantly though, nobody was hurt or incurred any physical harm from broken glass and glittery water.  A meaningful trinket breaking is nothing compared to if my kids or mythical wife suffered any slips or cuts from the damage. 
All the same, I am pretty bummed out by this.  I really did love this silly snow globe, and as I stated, replacing it would be costly, from those former Turner folks who are hocking them on eBay for well over $130 as exclusive goods, and I don't think I'd want a replacement anyway.  The one that broke was mine, my symbol of belonging on a team, and my personal memento of a brief but fun and memorable point in my career, and replacing it with someone else's for the sake of having an intact variant, doesn't seem like a justifiable idea.