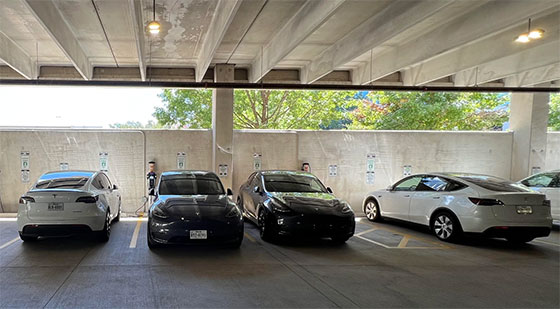 To cut to the chase, I bought a Tesla.  Okay, it's really my wife's car and she'll be the one making the payments on it, but on paper, I'm the purchaser, since I don't have student loans and my credit was more optimal to get the financing done.  But we have a Tesla, and I get to drive it around every now and then.
It hasn't been long, but it's definitely a fun new toy to drive around in.  There's definitely an adjustment period getting used to regenerative braking, and how you can literally drive with your foot on a single pedal.  The feeling of there being no gears shifting at all as you accelerate, and the sheer lack of sound of motors or smells of exhaust definitely makes you feel like you're driving a spaceship.
Without question, there's still a treasure chest worth of experience yet to be tapped as far as diving deeper into ownership of our Tesla, and I'm sure weeks, months and maybe years down the line, there will be functions and features that we'll still be discovering, and hopefully none that will have been gamechangers early in our ownership.
But the point of this post is about behavioral observations that I've had, now that I've been driving around in the Tesla myself for a few weeks now.  I didn't really think much about it after experiencing some observations, I guess I can kind of understand what's going on around me whenever I, or my wife are riding around in the Tesla.
Surrounding drivers are more aggressive. This is really the big thing that I've noticed the most when driving around myself.  Turning on a turn signal to initiate a lane change, way more frequently than I've noticed in any other car I've been in or driven, results in adjacent drivers stepping on the gas to forcibly deny me entry.  If at a merge point, surrounding drivers are noticeably more aggressive and out to make sure they get ahead of me, regardless of our spatial positioning. 

At stop lights, in just the last two weeks, I've had more people act like they're Brian O'Connor on me, and turn a green light into an impromptu drag race, and seemingly make a point of getting in front of me like they just won the le Mans.  I'm all like, buddy, I'm still trying to learn the pedal of this car, I'm definitely not trying to get in any races here.  Plus, I'm 40 with kids, I'm long past caring about 95% of red light matchups.

Don't get me wrong, I've pushed the pedal a few times, and the acceleration is staggering.  In most cases, I probably could smoke a lot of the cars that have gone Dom Toretto on me, but just because I could doesn't mean that I am, especially where I'm still new to this and learning about the car.

But I don't know if it's the color of the car, or the notion that all Tesla drivers must be rich assholes, but it's pretty undeniable that drivers all around me, when I'm in the Tesla, have their aggression ramped up like that one cheat code in Grand Theft Auto: Vice City where you can make everyone super aggressive.
Continue reading "Behavioral observations as a new Tesla driver" →