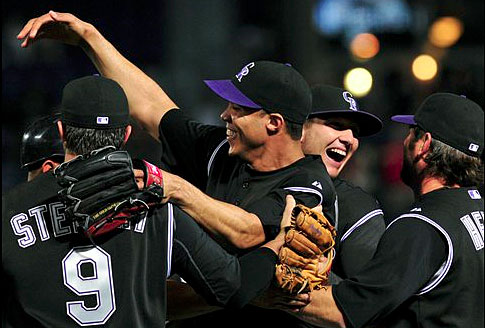 On April 17th, 2010, I was present at Turner Field, when a no-hitter was thrown.  Ever since I got into baseball, one of the things I've always said I wished that I'd experience, was to witness a no-hitter happen live and in person.  And on April 17th, 2010, that wish came true – I saw my no-hitter.
Unfortunately, it was at the expense of the Atlanta Braves, and not a Braves pitcher no-hitting someone else.
Ubaldo Jimenez, of the Colorado Rockies, no-hit the Braves in 128 pitches, striking out seven, walking six, and even committing a balk.  To those who aren't aware, no-hitters are one of the rarest of rare feats in modern baseball, and if we're so lucky, maybe one or two actually occurs in all of baseball on any given year.  And eleven games into the regular season, I can now say I was privileged to have been in the stands of Turner Field when the first no-hitter of 2010 occurred.
I am disappointed that it came at the expense of the Atlanta Braves, sure, but at the same time, I'm still utterly in awe of what I had witnessed, and I'm overall happy with the fact that the hardest of my baseball fan goals has already been achieved.  As far as being a sports fan goes, this is the kind of monumental occurrence that I'll be capable of bringing up for the rest of my life.
As for the Braves, there's always tomorrow, but a no-hitter is the kind of history that sticks on top, so unfortunately for them, whenever the Braves are mentioned in the same breath with the Rockies, this no-hitter is sure to be mentioned.  At least for the next ten years or so.