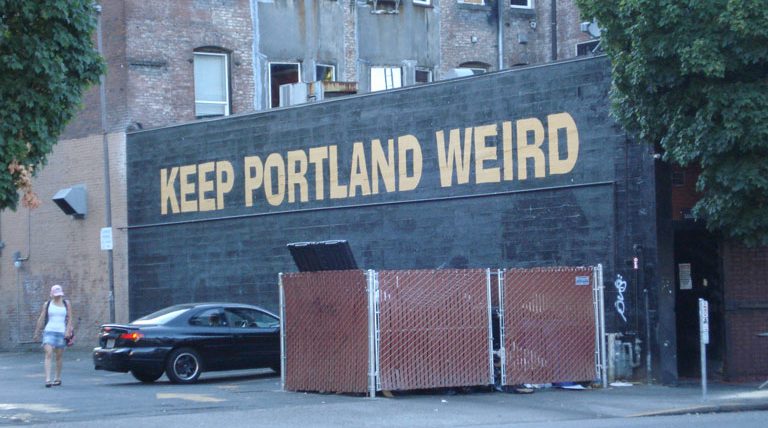 On Monday last week, I hopped on a plane, and flew across the country to Portland, Oregon.  The reasoning was pretty simple – I wanted to see a baseball game.  The team was The Portland Beavers, which are a minor league affiliate of the San Diego Padres, and their home park, PGE Park is regarded as one of the nicest parks in the minor league ball circuit.
There isn't a whole lot of explanation necessary to why I would exert so much effort in flying across the country in order to see a minor league team called "the Beavers."  I am, admittedly, a big kid at heart, and I snicker every time I say, or someone else says "the Portland Beavers."  The 14-year old in me demanded that this trip come to pass, and pass it did.  But most importantly was the fact that the 2010 season is the last year for the Beavers, and after it's over, their park is being converted into a full-time soccer stadium for a fucking Major League Soccer team (The Portland Timbers . . . lame), and the Beavers are more or less being kicked out of town, and leaving the name behind in the process.  So it boiled down to a now-or-never scenario, to where if I didn't make the trip on Monday, there would be no seeing any (baseball) Beavers, ever in my life.
The Beavers more or less gave me a convenient excuse to ever want to go to the state of Oregon, a state that I had never been to, in my entire life, and never really had any reason to until recently.  I had a fairly eventful time out in Portland aside from just the baseball game itself, and I'm glad that I made the trip, even if I did get stranded at the airport, and have to shell out the money that I don't necessarily have to pay for a motel for four hours.  I look back at the experience fondly, and feel little regret that a trip with immature motivations, and for a minor league ballpark wound up being the furthest traveled, most expensive, and (planned) shortest baseball road trip I made this season.
The trip started off a little bumpy, since for some unknown reason, there was an inordinate amount of people that also felt the necessity to fly out to Portland, Oregon, from Atlanta on a Monday morning.  In other words, what seemed like what would be an easy flight to get onto, turned into a more-stressful-than-necessary headache that I legitimately almost did not make.  I'm pretty sure I was either the last or second-to-last standby to actually get cleared onto the flight, but needless to say, middle-seat in between two guys considered, I was just relieved that I made the flight.
The Monday game was the only option for me, since it afforded me the opportunity to take the morning flight, and since the clock would be rolling back three hours for me, by the time I landed in Portland, it would only be 11:00 a.m. PST, which would give me ample time to get to the park in time for the 1:05 p.m. first pitch.  I had done a little bit of research prior to the trip, and the best option for me was to take the city's MAX train to the park, since it only made perfect sense, seeing as how there was a direct stop on the red line that went from the airport, directly to the ballpark.
The funny thing is, I purchased a day pass for the rail/bus service, but I don't recall a single opportunity to where I had to present it, wave it, scan it, or punch it, anywhere.  I purchased my ticket, entered no stalls, or turnstiles to get to the train platform, and instead hopped aboard a train with no attendants or electronic scanners, and took my seat.  This also was the case on the way back to the airport.  Is it some kind of honor system or something?  Because I essentially rode the train all day for nothing, as far as I'm concerned.
While riding on the train, naturally, I people-watched.  At first, it was nothing but older folks, since I got the impression that Portland was kind of an older folks kind of place, but as is the case with Seattle, it's more like the former-hippie kind of old guys, who wear outdoorsy t-shirts, and hiking boots, and often have long hair, etc.  I guess it's a northwestern thing.  But as we entered downtown, that's when I began to have initial thoughts about how I was beginning to feel like that I was entering a Chuck Palahniuk story.  Considering that he's resided in the city previously, I guess I couldn't be surprised, and after reading one of his works Fugitives and Refugees, I came into the city knowing that there was a reputation of it being kind of eccentric.  Hippies with big bicycles, people with gigantic, filthy, old-man-white beards, and lots of hipsters, with their ironic clothing, piercings, and visible tattoos.
So I got to the park, and I'll not bore anyone with my nerdy sports details, and I'd rather take the lazy way out and save it for when I post my Real Men Don't Wear Small write up on PGE Park, the home of the Portland Beavers.
But it was after the baseball game did my trip open up a bit.  A lot of people don't really realize it about my baseball trips, but the baseball parks and the baseball games are always only just a part of the trip, and never the entire trips themselves.  Baseball parks only give me convenient excuses to expand my traveling horizons, and go to places that I might not otherwise attempt to go to.  Seriously, I'd have so little reason to go to places like Pearl, Mississippi, St. Petersburg, Florida, or Portland, Oregon, if it weren't for baseball parks being there.  But while I'm at these destinations, I love nothing more than to get myself lost, and wander around, and see the towns and cities, sometimes.  That being said, I had a general idea of things and places I wanted to do and see while I was in town, but it was up to my feet to make them all happen.
First off, was food.  I found Kenny & Zuke's Delicatessen, kind of the old fashioned way – by looking at a map.  It was actually Google maps, but for whatever advertising reason, they showed up on the map itself when I was Googling what was around PGE Park, and when I saw an unfamiliar name, I clicked the links, which eventually led me to the website, where I saw this picture of a gigantic turkey, pastrami and corned beef sandwich, and like being dragged by Scorpion's spear, I knew that I had to try this place.  I found the place without difficulty thanks to the Google Maps app on my phone, and I'm glad that I came on a Monday afternoon; pretty much everywhere I went had very little wait if any at all, likely because it was a Monday.
Much like pictured on the website, I had to get the double-decker sandwich.  It came to me just like in the website's picture, all stacked and stuffed with sweet, succulent meat.  Just thinking about it while typing this up has got my mouth all watery and craving one right now.  And it tasted as good as it appeared.  Well worth the $14.95 price tag that came along with it.  Oh, and I should mention that Portland is a city with no sales tax – pretty sweet.
I went to a Stumptown Coffee Roasters, which is apparently a local chain of coffee shops, slightly popularized by the locals, and since I was dealing with some time-zone change related fatigue, some caffeine seemed like a good idea.  Admittedly, I flirted a little with the girl who worked there, complimenting her crazy platinum'd blond hair, and pulling the tourist card out a bit, and she ended up charging me a dollar less than what I had ordered, so I'm not complaining at the discount caffeine, and for what it was worth, Stumptown's coffee was pretty good.  Not quite as smooth as Dunkin' Donuts, but not nearly as bitter as a Starbucks.
The literary nerd in me read about Powell's Books from Palahniuk, and given my proximity, I figured it was worth a visit.  From the outside, it doesn't look that big, but from all accounts researched, Powell's is the largest independent book store company in the world, with the main Portland store being the largest of them all.  And all accounts are evidently true.  The store is like one of those old-fashioned Woolworth-type stores, that was so many different levels and split-levels of floors and sections that went up and down, to the left and right of every direction.  There was probably a section designated pretty much every color in the typical 32-color booklet, all dedicated to particular genres or categories that one could think of.  If I had more time, I could easily attest to the simple desire to lose one's self in the store and simply look around and geek out with various books.
After the book store, I eventually found my way to Ground Kontrol Classic Arcade.  When I found out about this place, it was the "K" in "Kontrol" that really sold me that this place had to be kwality.  It was actually quite a fascinating place.  I was carded upon entry, and it was like hipster heaven.  Seriously, from the door"man," the bartender, and the people that worked there, every single one of them was like an extra from a Weezer music video.  But prejudice aside, it was still a cool place, filled with nothing but old arcade machines, with very little dating past, maybe 2004.  And most importantly, I got to play a fully-functional, no jacked-up buttons or joystick, six-player X-Men arcade machine.
Around this time, any further walking around in the city I did, was met with a little disappointment, as I came to the realization that the city of Portland pretty much stopped operating between 5-6:00 p.m. on a Monday afternoon.  I mean, I still got to go to a lot of the places I wanted to see and such, but there were a few that were closed by the time I got there, because of their early closing times.  I managed to go to Voodoo Doughnut, and was apparently lucky that I didn't have to wait 20 minutes to get served apparently, but I was still unfortunate that they had sold out of all their Voodoo Doll donuts by the time I got there.  I instead got a maple-bacon donut, and at first, I thought I might have settled, but after eating it, I realized that I didn't give a shit that I didn't get the Voodoo Doll.  Oh, and this place was also crawling with hipsters inside, and on the staff, and outside was nothing but homeless people, pandering for money.
After visiting Voodoo, I walked a good bit more, because there was a store, as well as a food joint that I wanted to see before I headed back to the airport.  Unfortunately, both of them were closed.  I was ready and willing to force an unnecessary meal, because the place was called The Frying Scotsman, and supposedly they had some bitchin' fish and chips, but upon arriving, they were but another of the hundred food carts that peppered the street sides of Downtown Portland, and they apparently closed at the ludicrous time of 4:00 p.m. Seriously.
I was a little dejected at this, so I walked around, trying to see if there was any other appealing food carts that I could get a last meal in at, while I was in Portland.  But then I came to the realization that I wasn't really that hungry, and the guilty conscious of turning back into a fat(ter) slob made me conclude that a "bonus" meal just wasn't worth it, especially after all the crap I'd been eating and lazing with all throughout the summer already.
I did quite a bit more walking, to one, see if there was anything interesting that was actually open (which there wasn't), and two, to make myself feel a little better about myself, having eaten like a fucking pig already.  But then there really wasn't anything left for me, and I had literally done a little loop around the path that I had already taken, and suddenly I was at a red line stop.  So I packed my shit up, and boarded the train, and headed back to the airport.
And this is where it got a little ugly, because apparently somewhere between 12-18 assholes missed their flights from Portland to Atlanta earlier in the afternoon, and were suddenly bombarding the redeye flight I was planning on taking back.  Long story short, you guessed it, I missed the flight, and I was stranded in Portland for the night.  $68 for four hours at a Super 8 Motel later, and I was back at the airport, where thankfully, I made the first flight out, and in a surprise reversal of fortune, actually got a first-class seat, where I slept for 4 hours of the flight, because Tylenol PM is your friend.
But anyway, in conclusion, Portland, Oregon is a cute city, and I enjoyed my time there, as short as it was.  Short and sweet, didn't get to stay long enough to get disappointed by anything, really.  Also, the demographic of downtown is summed up by Triple H – Hipsters, Hippies, and Homeless.  Outside of those three categories of people, I honestly, genuinely cannot really say that I saw anyone.  Sure, my choice of destinations kind of catered to it, but even walking around on the streets, seldom did I see anyone that looked like a normal human being.  I mean look at this picture – tatted up guys with mohawks, black dude in purple pimp suit, hippies on bicycles defying BP and the petroleum-dependent slaves.  Portland's a cute city, but it's also certainly weird.  And as pictured way above, they're very fucking proud of it too.  I can see where Chuck Palahniuk gets it from too.