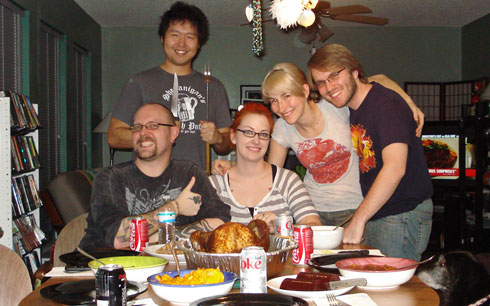 I passed out from the triptafen in the turkey a little while ago, and I'll probably be up until 3 a.m. as a result.  For what it's worth, Thanksgiving was a pleasant and successful affair this year.  Despite the fact that I kind of wanted to go visit my family back in Virginia this year, finances, and the residual fear of leaving home, being unable to defend it from batarians, it turned out to be a good holiday regardless, with tons of good food, in the company of friends.
Brack Friday was just as successful this year, and most importantly, very low-stress.  I already have a big-ass TV, decent sound system to go with it, the house already has an XBOX 360 as well as a Piss3, and we've got a lot of decent video games.  The movies I want to watch I can see via Netflix or other means, and I've got functional computers, as well as a perfectly good netbook.  So in other words, I had little reason to want to go out for Brack Friday this year, but still felt compelled to seek out a deal, because that's what we do as capitalist Americans, still desire to purchase shit.  In the end, I found an awesomely priced 14-gallon shop vacuum for the garage from Lowe's for $29.99 down from $79.99 that I was able to secure online, and pick up in-store without having to awaken at ass-O'clock, and when we did eventually go out to shop, at a "normal" hour, I was able to acquire a Logitech wireless keyboard / mouse combo from Radio Shack for $20 down from $40, and some clothing from Old Navy for relatively cheap.  Despite the fact that I didn't really have the disposable income to blow in the first place.
But anyway, I'm feeling contented, and pleased with the way the holiday has gone so far, and I'm hoping that this year will mercifully end as relatively low-stress as this Thanksgiving has been.