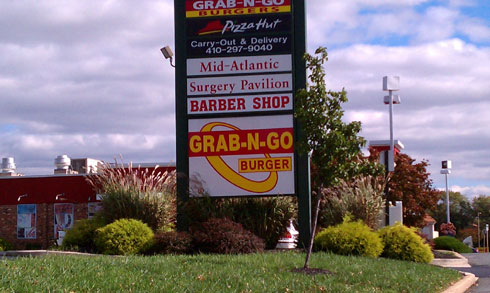 So before I came up to Aberdeen prior to the zombie run, I scoured the interwebs for potential things to do, places to see and of course, things to eat. Among the pursuit of unique dining, this story came across. Long story short, popular In-N-Out is suing obscure Aberdeen's Grab-N-Go for too closely copying their style; as in their logo it too similar, and their menu is also too similar. Considering the fact that In-N-Out's menu consists of burgers, fries and soda, that's not particularly difficult for any hamburger restaurant to accomplish.
Anyway, suing Grab-N-Go was probably the biggest favor that In-N-Out could have possibly done, because it has put Grab-N-Go on the map, and inquisitive people like me end up really wanting to visit.
Now look back to the image above: I'll give In-N-Out the logo, because it really is kind of reminiscent of theirs, with the circle, and the format of the text and the positioning of its sub lines.
When I looked at the menu, aside from the obvious, it's really not a thing like In-N-Out. Stating the fact that they served burgers, fries, and soda is completely null and void, since they're simply another burger joint, and if Grab-N-Go is going to get sued by In-N-Out, they may as well try to sue McDonalds, Wendy's and Burger King too. What separates Grab-N-Go from their competitors are probably the "specialty" burgers they serve, as well as the willingness to cook other things like hot dogs, fish and chicken for sandwiches.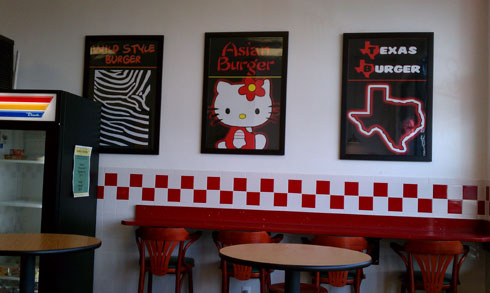 I really adore the Asian Burger poster. And by adore, I mean, I'm pulling out my race card and crying foul, because a combination of Hello Kitty and the ubiquitous WONTON CHING-CHONG font is a little bit on the ignorant side. More sensitive AzN$ may say offensive, but I think it's more ignorant.
But here's the kicker. As far as In-N-Out is concerned, conclusively, they don't have any fight in this matter aside from the slight similarities in logo. However, someone else might: Five Guys. Not because Grab-N-Go serves hamburgers, hot dogs, fries and sodas, just like In-N-Out and Five Guys does, but in the manner in which they do.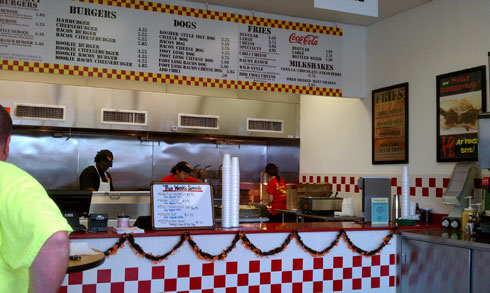 If you look at Grab-N-Go's menu, aside from the left quadrant of the menu that describes the ASHIAN BUH-GUH, other specialty burgers and alternative sandwich options, it's pretty much Five Guys' menu, with slightly altered names:
| | |
| --- | --- |
| Grab-N-Go | Five Guys |
| Hamburger | Hamburger |
| Cheeseburger | Cheeseburger |
| Bacon Burger | Bacon Burger |
| Bacon Cheeseburger | Bacon Cheeseburger |
| | |
| Rookie Burger | Little Hamburger |
| Rookie Cheeseburger | Little Cheeseburger |
| Rookie Bacon Burger | Little Bacon Burger |
| Rookie Bacon Cheeseburger | Little Bacon Cheeseburger |
The funny thing is that the only difference between the burger options are the words "Little" versus "Rookie." To no surprise, Grab-N-Go offers pretty much all the same toppings that Five Guys does, and I'm willing to bet if I said something like "home run," then it would have resulted in the same pre-set toppings as saying "all the way" at Five Guys does.
But aside from the questionably identical burger selection presentation, notice the red checkered patterns all over the menu, as well as the walls. Look familiar? Because on the walls themselves, it's the same exact red and white checkers found in Five Guys, as well as Tank Burgers from Left 4 Dead, but the point remains that it's yet another striking similarity to Five Guys.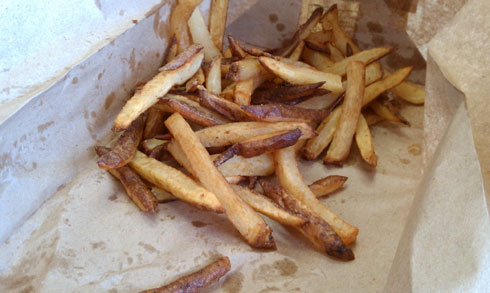 Now I didn't photograph the hamburger, because I was really hungry, and I tore right into it. It looked like a Five Guys burger, presented like a Five Guys burger, but in the end, it wasn't quite a Five Guys burger. Grab-N-Go uses red onions which are a tad bit more onion-y than the chopped yellow or sweet onions that Five Guys typically does. Furthermore, Grab-N-Go's patties look like they were once frozen, or at least pre-shaped, as opposed to the freshly formed and cooked patties at Five Guys. The overall flavor was alright and got the job done, but it wasn't quite Five Guys. Maybe 85%.
But the fries on the other hand, if I showed you this picture and said they were from Five Guys, most people probably wouldn't even bother to argue. They're obviously cut straight from potatoes; whether or not it's done in-house or previously prepared I don't know, but they present exactly like Five Guys', down to being served in white styrofoam cups. However, the taste, again, it's not quite on the same plateau as Five Guys. They were slightly greasier, or not quite fried as long as Five Guys does it, and they were subsequently too limp and oily. They simply didn't taste as good as Five Guys' fries. But they were still adequate and not bad, overall.
Overall, I'm not knocking Grab-N-Go for being a blatant Five Guys clone despite having an In-N-Out logo clone. Their food was alright, and did its job in satiating my need for lunch. Cost about as much as Five Guys, and the cashier was cute and nice, and the place was clean. It's a perfectly fine establishment, and I don't wish the place any ill-will, but facts are facts, the place is a complete Five Guys clone.
It's funny how all of this transpired. One of the endless debates nowadays, along the lines of Ginger or Mary-Ann/Betty or Veronica, is In-N-Out or Five Guys? And here we have Grab-N-Go, which sure, took a little too many liberties from In-N-Out's logo, and drew the ire of In-N-Out to the point of legal action, but in actuality, they're really a Five Guys copycat.
That's like breeding a 7'1, 300 lb. big black basketball player to be the next Shaq, but then he turns out being a three-point marksman like Jeff Hornacek. Or building a muscle car, only to have it become a hybrid. Or growing a fruit that looks like an apple but is citrus on the inside. The company that has a more legitimate ground for legal action for copyright infringement isn't the one taking it.
Oh yeah, Grab-N-Go also had all-you-can-eat shelled peanuts for you to eat while you wait, just like Five Guys. Strike three? Or is that four or five by now?