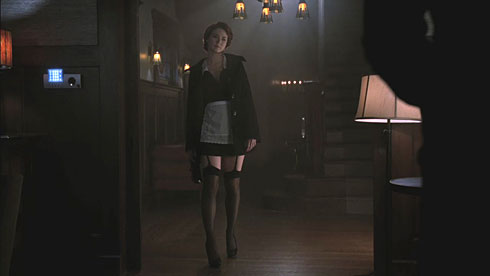 Alexandra Breckenridge as young Moira O'Hara = Stupid hot
Nine episodes in, and I can't really put my finger on it.  I'm continuing to put forth effort into watching American Horror Story, but I can't honestly say that I'm really a gigantic fan of it.  Not like how I feel about Dexter, or The Walking Dead, and not even close.  I was never really captivated, and I feel as if I'm more fascinated with the fact that it's the same people who did Nip/Tuck that created AHS, and I'm often curious to see how far they push the envelope of cable television, more than I am of the story.
Like Nip/Tuck, every character is deeply flawed, and they all do some immoral things on a fairly regular basis.  Men are made to look like bigger villains than women are, and there's no shortage of gore, sexual situations and brutal violence in each episode.  Now I dig all of the above, but I'm not finding myself obsessively restructuring my schedule in order to watch AHS; Jen and I are watching it when it's convenient for us.  But the core characters are put through so much torment on such a regular basis, it goes beyond the realm of reality of just how much bullshit a fictitious family can endure before everyone ends up dead, or the family runs away without any fear of the consequences.  Seriously, story or not, the family probably should have gone insane and left six episodes ago.
Alexandra Breckenridge on the other hand; I've had a thing for her since I saw her on Dirt, and it's like she's fulfilling all sorts of sordid fantasies for the male (and some female) worlds with the way she prances around as young Moira.  This, I cannot get enough of, and without any hint of lying, is a key reason for me to actually tune in.