Amazingly, with the amount of things I've been doing on a routinely basis, I still found time to read a few books this past year. Gone are the days where I'd pound out 30+ books, but at least I can say that I read more in 2011 than I did in 2010 (18 vs. 17). As is kind of the norm for anyone who reads a lot, we tend to get pickier, and more selective of the things we read, and when in doubt, there are authors or subjects that we fall back onto. Such is quite prevalent in my 2011 list of books, but for the most part, I can't say that I didn't find some degree of enjoyment in the things I read in the last year.
The Book of Basketball
By Bill Simmons
A gigantic thick book that encompassed way more about basketball than my existence was aware of, but Simmons' writing style and personality is one that appeals to me a lot, because it reminds me of me somewhat. But what I really liked the most about the book was the countdown of the top NBA players of all time, and that Simmons is as high on Tim Duncan as I am, and ranked him within the top-10 all time, which I can agree with. No-decision.
The Silent Man
By Alex Berenson
Gradually, I've been making my way through the John Wells series as I've obviously become a fan of Alex Berenson's writing. So far, out of all of the stories, I would have to say that The Silent Man probably had the most abrupt and sudden climax out of them. It's like you're reading through the book, and you're cognitive of the fact that you're running out of pages, and the main conflict is not yet resolved yet. And then suddenly, a lot of hints and clues come together immediately, and then just like that, conflict resolved. But it was not that predictable, which is something I could appreciate. Win.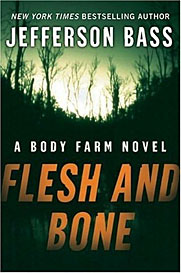 Flesh and Bone
By Jefferson Bass
I kind of tried this book out on a whim, and I learned that it was part of a pretty extensive series. Regardless of the references made to prior stories, it actually didn't do too bad of a job of keeping me the reader up to speed on certain characters and particular relationships between them. Overall, it was an entertaining read, and I could possibly see myself eventually going back in time to catch up on some of the other Body Farm stories that already exist out there. Win.

Scorecasting
By Tobias J. Moskowitz & L. Jon Wertheim
If there's any particular influence sports on the internet and the Moneyball fad has taught me, it was appreciation of looking at baseball and other sports from different angles. Solely watching sports on television early in my life led me to watch conventional, traditional means, but through literature and novella I learned that there legitimately were other ways to look at sports. Scorecasting is a great, sort of intellectual read that does help change the way you look at various sports, and understand that there are traditional values that are kind of silly. Win.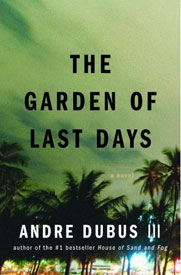 The Garden of Last Days
By Andre Dubus III
I picked this up on a whim at Borders, since it was on the discount rack. I have to say this is probably the best wayward discount book I've picked up all year. From driven, intelligent strippers to the creepy inner conflicts of 9/11 terrorists, it's a carefully paced, entertaining read, that made me a fan and pursue out more Dubus work later on in the year. Win.

The Extra 2%
By Jonah Keri
Almost on the lines of Moneyball, in the idea that outside-the-box, unconventional to baseball, but conventional to business, lines of thinking are what transformed the Tampa Bay Rays into the powerhouse they are today. I know it's all about the Rays and all, but I'll be the first to admit that it feels a little too fellating to the organization. It's great what they did and all, but there's a tone of Rays-worship that is a little too prevalent throughout the book. Spoiler alert – the Rays still don't win a World Series. Regardless, it's a great read, and I recommend it to anyone who liked Moneyball. Win.

Undisputed
By Chris Jericho
I really do like Chris Jericho, but the longer he tries to stay relevant, the more I think he's hurting himself. I respect his cunning intellect, and I like him as a performer, but I can't really say I liked this book. It's too self-aware, way too snarky, and there's a tone throughout it all that is kind of high on itself. I like lots of wrestling books, but there's a lot of bitterness, excessive jabs between the lines thrown out there, and a forced feeling of trying to be funny and witty. And looking back at the timeline from this book, to the current, Jericho's gone on hiatus at least three times since, and I hope there won't be books about each and every one of those. The whole "burned-out then return in a year" thing is getting old. Loss.
Bottom of the 33rd
By Dan Barry
Absolutely loved this book. There's a point when watching any baseball game, where you dread extra innings. Especially if the extra innings were a result of a heart-breaking blown save. But during many extra-inning games, there comes a point where the feeling changes, and you kind of wish for the extra innings to go on forever, because you think you're witnessing something magic, and beautiful about two teams completely unrelenting to one another for just one run. But nothing in history would probably ever compete with what happened on the Easter of 1981, when the Rochester Red Wings and the Pawtucket Red Sox played to 32 deadlocked innings that spanned over eight hours, and required to be completed several months later. The longest game in baseball history, a part of me kind of wonders that I would've liked to have been at such a milestone night if I were alive. Win.

Survivor
By Chuck Palahniuk
I read this book long ago, before I had an appreciation for Palahniuk's work. Upon finding it for a dollar at a thrift store, and not owning it previously, it only made sense that I give it another whirl. It was obviously one of his earliest works, but I have to say it still captured the nihilistic style that seems sort of forced or absent in a lot of his current works, that seem more experimental and not quite what made me love his work in the first place. No-decision.

King of Plagues
By Jonathan Maberry
I've enjoyed the Joe Ledger series as a whole, and I have to say that King of Plagues was enjoyable as well, but I have to point out that there was one gigantic flaw, that I'm actually curious to know if it's a flaw, deliberate, or simply an error. I kind of wish I sought out the author during the last Dragon-Con so I could've asked him personally, but I neglected to do so in probably my drunken stupor. But a key antagonist's identity is literally revealed by name midway through the book; it's not mentioned again until the rest of the antagonist's allies are all revealed as well, which makes me wonder if it was deliberate or not. Win.

Those Guys Have All the Fun
By James Andrew Miller and Tom Shales
As a sports fan, I thought it would be interesting to read about ESPN, from a journalistic/tabloid sense. But really, I made a critical mistake in picking this book up, and I should've at least read through the first three pages to have realized that I was probably going to hate the entire book's format before actually purchasing it. Long story short – this would be a great documentary, but as a book, and actually having to read the testimonials instead of watching and listening to them; not very fun. A gigantic book that seemed to go on forever, I pushed through however, and kind of wish I had my time back. Loss.

House of Sand and Fog
By Andre Dubus III
Apparently the book that made Dubus famous, and actually spawned a movie as well. It was an enjoyable read, and captured the emotion and despair of desperate characters better than anyone else I've read in quite some time. It's actually kind of frightening, the way that desperate parties can escalate into such horrific circumstances, but it was an entertaining story throughout regardless. And as should be predicted, the book was better than the movie, although it was one of the rare instances where I thought Jennifer Connolly actually was attractive. Desperation and attainability probably had something to do with that, but whatever. Win.

When the Game Was Ours
By Jackie MacMullin
As much as I favor baseball over basketball, I have to admit that I think basketball leads to better stories than baseball does. Especially basketball stories that encompass players that I grew up watching and were familiar with in my youth. Reading about the stories of the rivalry between Magic Johnson and Larry Bird was enjoyable and easy to read, and I found myself blowing through this book with ease. It's a reminder of what a shame it was that Magic's career was cut short by the HIV, and brought light to essentially Larry Bird's own undoing, when the root of his career-ending back problems more or less started when he staunchly built his own basketball court instead of contracting that work out. Win.

Bullpen Diaries
By Charley Rosen
This was the last book I ever bought from a Borders bookstore, before they all started going out of business. I figured it was poignant, because it was a baseball book, and a book specifically about the guys who close out ballgames, the closers. But not just any closer, but the best of all time, in Mariano Rivera. Unfortunately, the book kind of sucked. It was more or less a printed out blog of a biased Yankee superfan, who gave subjective ratings and opinions about Yankee relievers. Too much biased Joba Chamberlain agenda, and old school grudge bearing against inconsistent relievers. Loss.

My Life Outside the Ring
By Hulk Hogan
I purchased this book off the discount rack at Barnes and Noble. Ultimately, every wrestler's book ends up on the discount rack, and this was no exception. It's kind of a trainwreck of a book, and possibly one with an agenda. And having grown up with the internet, there's lots of outlets to read of conflicting opinions about the Hulkster, so there's a little bit of jaded mindset going into the book. Naturally, the Hulkster essentially tries to put himself in the most positive of lights, but I think there are a lot of matters addressed in the book that makes me lean towards thinking its more earnest than people may think. There are a lot of intimate details disclosed that I'm surprised he put in writing, but naturally there are always two sides to every story, and in regards to his ex-wife, it kind of paints her to be the anti-Christ, to the point where she predictable wrote her own rebuttal book. Overall, it wasn't bad. No-decision.

The Midnight House
By Alex Berenson
Continuing on the John Wells saga, I made it through to the fourth installment of the series. I don't want to give too much away, but I think we've gotten to the point where a little bit of agenda is injected in the midst of the story, in order to get a message across, or to gripe a little bit. Regardless of my suspicions, the book was still entertaining as the three prior installments. Maybe a little less exciting than its predecessor, kind of like a Dexter season 3 sort of way, but it wasn't bad overall. The fact that I can't really find as many words kind of says it all, I suppose. No-decision.

Girls for Breakfast
By David Yoo
I know I said I was skeptical about Korean authors, but the synopsis for this book, and the fact that I paid maybe $3 for this made it worth a shot. The pros are that it was easily one of the more entertaining reads by a Korean author I've ever read, because to some degree I think I can relate with the author's thoughts as the story is being told. But the cons are that the protagonist of the story, I kind of didn't like. But it's a feeling nonetheless, and it's better than having none at all. But the main character is an emotionally whiny kind of asshole at times, and although it's kind of hypocritical of me to say, I don't like the shame he seems to harbor for his ethnicity, but I'd be lying if I said I didn't have some of the same hangups. Win.

Double Dexter
By Jeff Lindsay
Although I liked the book as a whole, I have to say that I think that the Dexter book series can't go on much longer, much like the television series. For starters, the fact that the first-edition cover alone is now the same logo as the television show makes me feel that the books are slightly leaning on television-established appearances and personas, rather than the other way around. Character development is kind of turning Dexter weaker and weaker with each progressive book, and it's beginning to lose that mystique of the calculated killer who was ready for everything. But the story as a whole, was a little too predictable as a whole, and I found myself being able to figure most everything out fairly quickly. Win.
Overall, on the 2011 year, my record of books is a respectable 11-3 with four no-decisions. That's about as good as a hotshot rookie pitcher emerging in June, and earning his keep throughout an abbreviated Major League season.