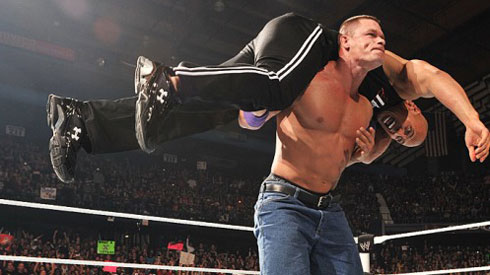 I'm actually looking forward to Wrestlemania again this year.  Since it's not in Atlanta and I won't be attending, nor will I be having guests over for it, I'll be going back to the traditional arrangement of flying up to Virginia to watch it with all of my close friends together, like we had done so for every year since 1999 (with a few exceptions).  The funny thing is that the match listing for the show as a whole seems kind of weak overall, but I guess it doesn't really need to be that strong, because there are two matches in that are heavily carrying the entire show, and those happen to be the two matches that pretty much I'd assume most people actually give a shit about.  One of them happens to be the year-in-the-making John Cena versus The Rock match.
It seems cliché to simply say I'm looking forward to one of the matches that has been built up the most over the last year, but from several different standpoints from both a pro wrestling fan as well as my mark-ish tendencies make this match appealing to me, above all other matches.  The last year has been filled with entertaining promos and a slow build, and in the last few months, has been essentially nothing but a trading of verbal barbs and mind games heading up to WM.  And as much as today's fans instantly gravitate towards The Rock for being the nostalgic favorite, or for no other reason that he's simply not John Cena, I have to say that I'm enjoying John Cena's promos, way more than The Rock's.  The Rock's delivery is still the most electrifying there is, but his words are simply, still from 1999.  Cena's the one looking like the scholarly verbal vanguard with his more conversational approach, and it simply is more appealing to me.
I fancy myself somewhat of a good predictor when it comes to wrestling matches; as pre-determined as they may all be, we, the people at home are still unaware to what the outcomes of the matches are going to be until they happen.  The Rock/Cena match has several aspects that make me think it's a shoe-in, slam-dunk easy prediction to make, but throughout the last few years, especially with the ever-advancing of the internet and social media, there's like a gamesmanship between the WWE and the fans, where the WWE has been known to simply throw curveballs for almost no reason other than to disprove smarty-pants fans like myself.  With the fourth wall having not only been knocked down, crumbled, and recycled into terra cotta pots with ferns in them now, it's harder than ever to predict some matches, due to the invasive, personal, and "real" nature some of the storylines get into these days.  Needless to say, I have a prediction for what the outcome of Rock/Cena will be, but it's not as confident as it may have been a few years ago.
But for what it's worth, I still think that John Cena will beat The Rock, and I'd have to say my certainty stands at around 55%.
Despite my belief that the WWE might act in manners to deliberately derail the predictions, there are some mostly core industry concepts that make me still believe that The Rock has already lost.  As progressive as the industry gets, these are things that even the WWE probably won't be able to shake up.
You don't win in your hometown.  The Rock is billed from Miami, and WM 28 happens to be in Miami.  Mick Foley said it best, when he stated that at no point, should any individual performer be more important than the business.  That being said, no matter how many last-match-evers he's had, he's practically never won any of them.  The Long Island native has pretty much almost never won in the State of New York, either.  Just like how Bret Hart, Chris Benoit, and most other Canadian wrestlers never win significant matches anywhere in Canada, Rey Misterio and Eddie Guerrero rarely won in Southern California or anywhere there were large Mexican contingents, or the Hardy Boyz or any OMEGA wrestlers never won in North Carolina.  None of these guys are bigger than the business, and no matter how nice it would be to win in your home regions, notbeing allowed to win is a greater reminder of how secondary you are compared to the business.  If this concept still holds weight, The Rock is a goner, no matter how imperative he makes winning the match is to his career and manhood.
This is The Rock's track record since he started making movies:
2002 – Defeats Hulk Hogan at WM 18
2002 – Jobs to "the Hurricane" Shane Helms
2002 – Jobs to Brock Lesnar
2003 – Defeats Stone Cold Steve Austin at WM 19
2003 – Jobs to Bill Goldberg
2004 – Jobs to Randy Orton, Ric Flair and Batista in tag match with Mick Foley at WM 20
There is a trend, looking at these matches – The Rock only beats legends on their way out.  It's hard to believe that there was ever a time when it could be said that Hulk Hogan was any less of a corpse than he is now, but in 2002, he was still Adonis compared to what he is today.  Ironically, this is the kind of thing we said in 2002, when comparing then to 1992.  But regardless, Hogan was the past, and at least in the WWE, his remaining torch, needed to be passed along.  And the win against Steve Austin, that was actually Austin's official last match; even though the Rock was a part-timer, it was Austin who had be shown that he was not above the business and had to do the job, then and there.
John Cena is neither old, or on his way out.  Which brings us to the other part of the trend: The Rock always loses to the guys of today.  Which is exactly what John Cena is – not only is he the guy of today, he is also the guy of tomorrow.  No matter how much trolling WWE fans like to reign on him, in arenas, he's still a passionate, hard-working ambassador of the business, and you'd have to be blind and stupid to not recognize his importance to the industry.  This sentiment has clearly not been lost on The Rock himself, who has been known to be a good ambassador in his own right who understands that he needs to occasionally do the job to the guys of today in order to sustain the business that made him who he is.  Lesnar and Goldberg were giant money projects that clearly benefitted from getting the rub from The Rock, and frankly, needed that high-profile win to boost their credibility to the layman's viewers.  I've always viewed the job to the Hurricane as more of a whimsical rub, or that The Rock personally liked the idea and did it voluntarily, but it still holds true to that The Rock was a guest, and the Hurricane was a mainstay; priorities won out there too.  And his last appearance in a WM match, although it was Foley who took the pinfall, it was to Randy Orton, who is amongst the upper echelon of (perceived) talent to this day.  If this logic still holds any weight in today's wrestling standards, The Rock is a goner.
Okay, so I really only have two legitimate theories to why The Rock is going to lose.  But as a longtime enthusiast of professional wrestling, I like to believe that I've got somewhat of an understanding of how the business operates.  But the fact of the matter is that if Las Vegas took odds on pro-wrestling, I'd feel fairly confident putting money on John Cena beating The Rock on Sunday.
Predictions for other matches:
Undertaker goes 20-0, beating Triple H, regardless of whatever fat Shawn Michaels does in the match.  HHH might be an ego-maniacal narcissist, but he's also the future owner of the company.  Being the guy that ends the streak doesn't seem like very good business, but not in the way he's explaining it on television.
Daniel Bryan beats Sheamus to retain World Title.  YES!  YES!  YES!  YES!  YES!  WORLD!  HEAVYWEIGHT!  CHAMPION!  YES!  YES!  YES!  YES!  Not going to lie – Sheamus would be a boring World Champion.  Daniel Bryan is not.
Chris Jericho beats C.M. Punk to become WWE Champion.  C.M. Punk doesn't need a belt to be popular.  He'll be popular for a long time, belt or no belt.  Chris Jericho on the other hand, probably has a clause in his like eighth post-retirement/burnout contract that guarantees him a World Title reign, which will keep him motivated until about Survivor Series, when he'll start to feel burnt out again, loaf in matches, and lose a match to like John Cena or Randy Orton, and vanish from WWE TV for another 14 months, relegating himself to reality television and VH1.  Again.
Big Show defeats Cody Rhodes for Intercontinental Championship.  The way the story's being built up, there's no way that Big Show loses yet another Wrestlemania this year.  And winning via disqualification is a weak rectification to the losing streak, so that means that Show gets the IC belt.  It's okay though, because that means Cody Rhodes is being promoted to the World Title ranks afterward, likely.
Randy Orton defeats Kane.  To be honest, I don't really care about this match at all.  If it were a live event, this would be a piss break.
Maria Menounous and Kelly Kelly defeat Beth Phoenix and Eve.  Celebrity guests rarely lose at Wrestlemania.  Will probably ultimately be used to springboard a feud between Kelly Kelly and one of the two opponents.
Team Johnny defeats Team Teddy.  Which kind of sucks, since John Laurinatis kind of bores me, but the way the story appears to being set up, Eve is going to either turn Zack Ryder heel, or distract him from the match to where David Otunga or Mark Henry is going to capitalize and pin Santino in the process.