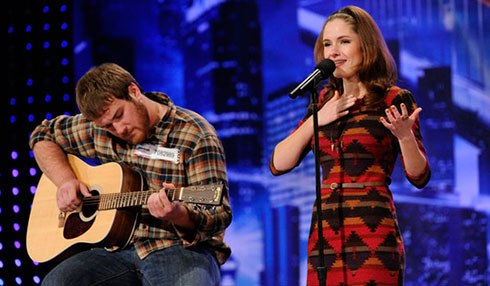 I've been watching America's Got Talent this season, because I'm a Howard Stern fan, and it's been kind of unavoidable. But anyway, the people in the photograph are "Eric & Olivia," a music duo with Eric on guitar, and Olivia doing vocals.  To their credit, I liked their act, and I think Olivia is definitely a pleasant singer, and I find her to be quite beautiful.  But the operative word in that statement is "act," because I think that's precisely what's going on here.
Stern grilled them in their initial audition, and inquired about their relationship, to which they both bashfully collided with, until they both attested to being "just friends."  Stern would proceed to zero in on Eric, and ask him if he really were happy with the arrangement, to which he sheepishly hesitated, stuttered, and then spit out the clichéd line that she is indeed beautiful, but they're just friends and the music comes first.  Regardless, they made it past the first round, and went to Vegas for their second audition.  Stern would claim that Las Vegas would be the perfect place for Eric to make his move, only as the self-proclaimed King of All Media can do.
Personally, I'm convinced that the whole just-friends thing is all an act, or at least part of an act, and there's a plan in motion once they made it to the second round.  If the duo makes it past Vegas, they enter the stage of the competition where the fans' vote has a large part in their survival in the competition.  Needless to say, with the brainless masses in control of contestants' fates, it gets to a point where talent takes a backseat to overall popularity.
That being said, I've got a nickname for Eric & Olivia: The Hunger Games.  If they make it past the second round, then I fully expect Eric to become Peeta, and once in front of a nationally televised live audience, will come clean and attest to having feelings for Olivia.  Olivia will play her part of the aloof Katniss and be shocked, and the storyline and drama of a longing partner versus the duo's quest for fame and success might be compelling enough for the viewers at home to continuously vote them safely in the competition to see what happens next.  It's almost too obviously coincidental to the secondary plot of The Hunger Games.
Considering the show is not immune to controversy and fake acts, like the country singer with brain damage who stutters but seemed to be able to repress it when he sang, who lied about his military history and injuries and really didn't have a stutter, my theory of an ambitious young couple faking their relationship and slowly re-writing it on a weekly basis to garner attention wouldn't be too far-fetched.
Anyway, Eric & Olivia did indeed make it past the second round, and the next time we see them on America's Got Talent, it will be live; and fans at home will play a large part in deciding their fate.  So when the duo nails their next performance, and Eric emotionally "slips" some "feelings" towards Olivia in their post-performance interview, remember you read about it here first.
May luck be ever in their favor.