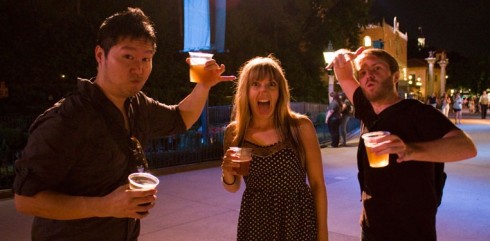 And here I thought going through this backlog of photos was going to feel more like a chore than anything else, how wrong I was.  This is the first set of photos I took while in Florida, where my friends and I spent an afternoon at Disney's MGM Studios, and then the rest of the evening at Epcot, where we partook in the goal of eating and drinking every single country during the Epcot International Food and Wine Festival.
Lots of the nationalities present served up some pretty good things here and there, but I'd be remiss if I didn't admit that we (3/5 of us) were also there to get our drinky-drink on.  That being said, as the evening progressed and sangrias, mimosas and regional boozes devolved into beer, double-fisting and gratuitous photo-bombing, it's debatable on whether or not we might have been some of the drunker people on the premises.
So much for the happiest place on earth.