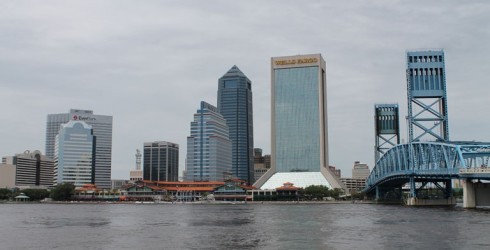 The pursuit of bobbleheads took me down to Jacksonville, Florida for the first time in my life.  This was kind of a shoddily put together trip, as the only thing I had genuinely planned for was to go to the ballpark in the evening, so that I could get this rare oddity of a bobblehead of Chipper Jones in his high school uniform, since it was a prep school in Jacksonville.
That being said, I literally had nothing to do all day prior to going to the ballpark mega early to ensure that I would get my bobblehead(s).  After I found a place to eat breakfast, I walked around a tiny park, because Google maps showed that it housed a creek known as "Hogan Creek," and as anyone should know about me now, I'm fascinated with anything with the name "Hogan" in it for my Hulkamaniac roots.
Eventually, after an outdoor market underneath a bridge, I resorted to finding a place to quietly sit and enjoy some local brews while taking in some waterfront scenery.  As I said, I didn't really have anything to do, and Jacksonville profiled as the kind of city where the more interesting things to do were all outside of the actual city, like at the beaches or further south in St. Augustine.
The ballpark though, was fantastic.  Obviously, this means that I'll go into further detail on my ongoing ballparks website, so I'll spare the details of just how fantastic it was in comparison to other ballparks on the normal brog portion of my site.
But anyway, pictures.