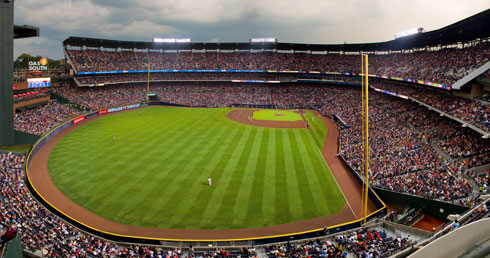 Long story short:  the Atlanta Braves, seeing as their lease with Turner Field is expiring soon, announces that they're going to build a new stadium in Marietta, and plan on moving into it by the start of the 2017 season.
First off, FUCK.  Here I am, trying to enjoy my day off of work, and I read about this, and now my mind is filled with a jumble of emotions, people on Braves websites are all flipping out, people on Facebook are shitting on the Braves and baseball, and I'm getting all worked up about it unnecessarily and now I want to write something about it, god damn it.
Anyway, I decided to go run some errands so I could have some time to digest the facts that are known, all the other knee-jerk reactions of people on Braves forums as well as people on Facebook, and try to write about this somewhat objectively, although that'll probably eventually begin to crumble away as I write and my trains of thought deviate from one to another with each passing distraction.  The best thing for me to do is mostly ignore a lot of the chatter immediately available to me, because most of the things being said are from people that don't live in Metro Atlanta and/or are not even sports fans to begin with; everyone wants to share their opinion regardless.
But anyway, the most prominent thought I have on this matter is that this could very well be one gigantic elaborate bluff, and that there will be no move to Cobb County in the future.  One of my old baseball writing colleagues pointed out the notion that this was a similar tactic very recently used by the Atlanta Falcons in order to publicly threaten and shame the City of Atlanta into caving in and granting all sorts of financial accommodations for the Falcons to tear down the Georgia Dome and turn it into this gaudy monstrosity of a football venue in the future.  Sure it sounds cerebrally sophomoric and reeks of cowardice, but many people inherently dislike change, and the backlash of the threat of their mainstay professional sports teams leaving can only head in one direction.
I do believe there is a chance that this could very well be the case, seeing as how successful it was for the Falcons, and I'd have to imagine that it would be a very embarrassing notion for the city to constantly be under this threat of having their professional teams constantly threatening to leave, and in the case of the former Thrashers, actually leaving.
However, we also have to accept the fact that this could very well be reality.  There are beyond more than enough justifiable reasons why it would be a good idea for the Braves to move northbound, whether Marietta is the right place or not.  Most of the justification revolving around quality of surroundings, accessibility, and public transportation.