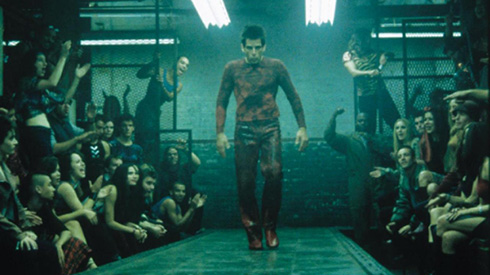 Blue Steel Friday, that is.
I know it's pretty much the Armageddon of capitalism every year, but I don't really mind Black Fridays.  Sure, they're stressful, exhausting and I've had my massive share of failures in the past, but I've also experienced triumphs and successes in acquiring big ticket items for substantial discounts and/or rewards.  Whereas there are lots of people who see Black Fridays as miserable commercial holidays of chaos, greed and materialism, I often see them as opportunities to make some smart purchasing.
Especially now that most merchants have actually moved into the twenty-first century and actually do as much peddling online as they do in-stores, it makes things a hundred times more efficient and less stressful, since I don't have to wake up at 3 AM in order to wait in a line to get something I really want.
Last year was actually perfect, since I was able to make a lot of my substantial purchases online on Thanksgiving Day itself, and then Black Friday was spent leisurely sleeping in, and scavenging for leftover deals at the mall and Target, and whatever other retailers were on the route.
As we near closer to Thanksgiving in present time, I've already been keeping my eyes peeled for things I might want, things I might want to get for others, and things that I didn't know I wanted until I see that they're going to be on sale come Black Friday.  Nothing is really a secret or going to be a surprise what with all the fake confidentiality and planned leaks of item lists, and the existence of sites like BFAds.
The thing is, I'm having a lot of difficulty with planning on making any exorbitant purchases this year, because I actually don't think I need anything extravagant this year.  I make a mental inventory of all the things I have, and the things that are typically hot items come Black Friday, and I'm drawing a blank to what I need and/or want.  I have nice televisions and adequate stereo equipment.  My computer is (knock on wood) running fine, and I have an iPad and an iPhone that aren't completely outdated yet.  I briefly thought about looking at a laptop, but the one I have now has literally been collecting dust, and upon turning it on, it turns out the last time it was used was back in March.  The idea of camera accessories is appealing, but often times that encroaches a spending realm that surpasses even big-screen TVs and hardcore computer equipment.
Electronically, the only thing that's really on my radar is perhaps a new second monitor for my computer, because my current second monitor is on its last legs, and is requiring more and more time to "warm up" before it actually stays on.  But it's not something that's extremely high priority for me, since it's more of a convenience, and a means for me to have something to look at on the side while I'm playing LoL or to have all my extraneous tool tabs in Adobe software off of my main screen, so it's hard to say just how hard I'm going to be trying to secure one come Black Friday.
So, all of this being said, the reason why this year might be more of a Blue Steel Friday for me is the fact that I'm not really so interested in electronics, but I am definitely interesting in clothing.  Yes, clothing.  In spite of my fashion shortcomings, I make an earnest effort in trying to not look like a mess of humanity all the time, and I've always been appreciative of decent clothing that suits mine, and perhaps the aesthetic acceptance of others.
What was cool about last year was that when I was perusing through sites like BFAds, I noticed lots of clothing retailers also being listed as businesses that were running Black Friday sales online.  After I had made my impulse and planned purchases of electronic gadgets, the spending bug was still running wild, and I began to think about updating my closet with potential new articles of clothing.  Before I knew it, I had dropped quite a bit of cash on stuff like sweaters, jeans and other winter articles, and I couldn't help but feel really relieved and pleased with the simplicity of bolstering my wardrobe from the convenience of home.  It didn't help that I went out the next day and spent a little bit more money on clothing in person.
Needless to say, I'm admittedly more excited over the idea of doing the same thing this coming Black Friday, but primarily heading towards clothing retailers over any of the electronics that I don't think I need.  And I'm hoping that by focusing on clothing first, I can avoid a lot of the "sold outs" and "currently unavailables" I ran into so frequently last year, and come out a lot more successful this year.
So clothing over electronics. Does this mean I'm becoming more metro, or does it just mean that I have most of the electronics that I could want already?  It doesn't really matter to me.  Clothing has a more direct daily impact in my everyday life than a lot of electronics do, save for a good personal computer.  That being said, may as well get some quality clothing; I'm a single guy, and some effort to my general appearance certainly isn't ever not a bad idea.
Blue steel..!