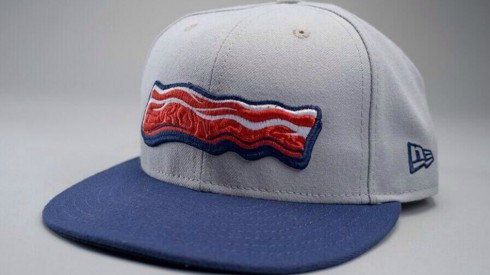 See this baseball cap?  I want this baseball cap.  I must have this baseball cap.
It is a piece of bacon.  ON A BASEBALL CAP.  A totally legit, NewEra baseball cap.
I have to have this.
There's one problem, though.  They're the baseball cap of the Lehigh Valley Iron Pigs, a minor-league team of the Triple-A level.  I've been to Allentown PA, to see the home of the Iron Pigs, late last season; nice park, in spite of Nazi-like park employees.  The problem is however, the Lehigh Valley Iron Pigs are affiliates of the Philadelphia Phillies.  As an Atlanta Braves fan, I very much dislike the Phillies, and if it were up to me, I would like to not support them in any capacity.
But this cap.  It has a piece of bacon on it.
It should come in green as well, to represent the envy I have for a Phillies affiliate having claim over such a brilliant piece of fan apparel.
It's inevitable that I'm going to get the bacon cap.  As much as it sort of defeats the preceding words, I actually already have an Iron Pigs cap, from when I went there last season.  It was raining when we were there, which forced us to go into the team store, where we discovered that everything in the store was on massive discount because it was three days before the end of the Triple-A season, and the store was trying to unload as much stock as they could to make room for the following season's merch, like the vaunted bacon cap that I'm pining for so hard.  So ultimately, it's really going to be nothing new if and when I get the bacon cap.
Additionally, the existence of the bacon cap makes me feel really resentful towards the Braves, and any other organization that has lame minor league affiliate names.  But none are worse than the Braves, whom literally all but one of their minor league affiliates are all called "Braves."  Gulf Coast, Danville, Rome, Mississippi, Gwinnett, they're all "the Braves."  Same colors, same branding, all boring.  It's no secret that I favor the Lynchburg Hillcats, and the Myrtle Beach Pelicans that preceded them, because they're campy and different, the way minor league baseball is supposed to be.
It's just not fair.  I look forward to getting my eventual bacon cap, and I can already see it ranking within my top-3 minor league cap preferences, but unless the Phillies decide to affiliate with another team, it's always going to have that bittersweet notion of supporting an enemy.