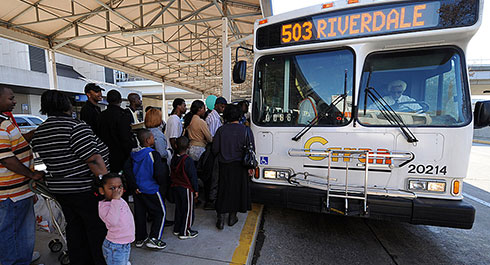 Brief: MARTA rejects Clayton County's offer to incorporate a 0.5¢ county-wide tax increase in order to bring MARTA buses down into Clayton County.
Translation: Despite the fact that MARTA is a sham of a transit authority and a company in the first place, even they don't want to get themselves involved with Clayton County.
Man, as much as I rag on MARTA, in the end it must really suck to be Clayton County.
In the end, this has everything to do with money, because as it stands now, the other counties have a 1¢ tax in place to help fund having MARTA in the first place.  The speculation is that MARTA wants them to pay a full penny just like everyone else, and now the ball is back in Clayton County's court to see if they're willing to go along with it.
But it doesn't change the fact that for the time being, it simply looks like MARTA doesn't want anything to do with Clayton County, which says a lot about how they just might think Clayton County would impact MARTA service to begin with.
Long story short, Clayton County is south of the City of Atlanta, and where cities such as College Park, Forest Park, Jonesboro, Morrow, and Riverdale are located.  FYI, the latter city, Riverdale, is notorious for high crime, high murder rates, and an all-around bad place to be.  Just driving through there gives me the willies, and I don't even feel safe in the confines of my car, because who knows if someone's going to run up to my car while at a red light and attempt to GTA me?
One very popular belief about Clayton County is that they're seen as Atlanta's proverbial toilet bowl, since there's lots of claims that it's where Atlanta kind of forced their poorest and the projects into, when preparing for the arrival of the 1996 Olympic games, which is why it's so ghetto down there to this day.
Either way, it's still funny, because it makes it sounds like even MARTA doesn't want Clayton County folks to utilize their service.  However, when it inevitably does happen, imagine what's going to happen to MARTA then?
More brog content, that's for sure.