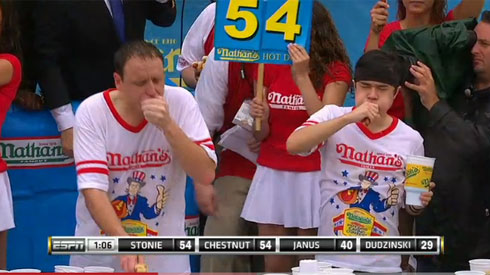 Since there was no work today, I turned on the television and looked for something to watch.  Because I'm kind of a jock, my default destination to begin searching typically starts with the sports block of channels, and immediately, there were two things that caught my eye.  On ESPN, was the annual Fourth of July Nathan's Hot Dog Eating contest, and one ESPN2, was the World Cup, with a quarterfinal game between France and Germany no less.
With the US National Anthem softly playing in my head, I chose the hot dogs.
The World Cup might be the beautiful game, played once every four years, and meetings between France and Germany while both are reputable global powerhouses in the soccer world, playing in a game with such high stakes might never come around again any time soon.  But watching two Americans in Joey Chestnut and Matt Stonie competing for gluttonous glory, long past the days of Takeru Kobayashi's dominance over the yearly event, is more intriguing television.  And frankly, the event is so overall short, that I could still catch the tail end of the World Cup game regardless.
I'm not entirely sure what it says about America, although I'm sure it's nothing too flattering given the cynical and snarky nature of the world, but watching Americans stuff their face full of a staple of American food for eleven minutes trumps the beautiful game, every single time.
This is how it's done in America.