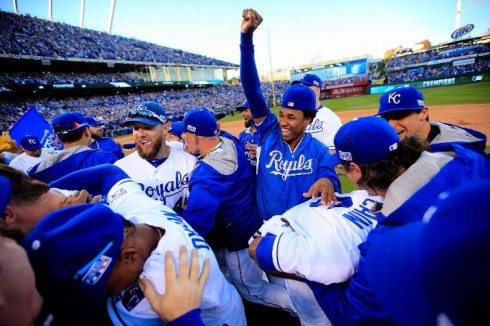 Despite being the world's worst baseball fan, there are still two things I have been following as it pertains to this season's, Atlanta Braves-less MLB playoffs.  The first are the San Francisco Giants, who are a team that I dislike on account of their smarmy fanbase, overrated ballpark, and the city they represent.  However, the Giants represent a theory that I, among many snarky baseball fans have jokingly bought into, and there's an intrigue in seeing if it comes to fruition or not:
The Giants win every even-numbered season.
Granted, it's only been two instances, but still, that's two more championships than most other franchises, much less the Braves have seen in their franchises' histories.  But with titles won in 2010 and 2012, I've been saying that 2014 is destined to be their year as well, and that if nobody can keep the Giants out of the playoffs, than there may as well not be any playoffs, because another championship is all but inevitable.
To no surprise, the Giants (at the time I'm writing this) are a win away from yet another trip to the World Series, which if they get in, will likely win it, because that's what the Giants do on even-numbered years.  The moment I saw that they had gotten into the Wild Card game, it was all but inevitable, and not even the #1 seed Nationals could put up much of a fight, and the perennially charmed Cardinals franchise is now hanging onto a thread, which will inevitably have to be cut.
Despite the fact that I really couldn't care less about the Giants, they still represent something somewhat intriguing to me: being right.
The other thing that I'm keeping close attention to is something on a radically different plane for me, in that I'm actively rooting for a team to win it all, that isn't the Braves.
I would really, really like to see the Kansas City Royals go all the way.
When it comes to sports, this is about as fairy tale as a Cinderella story can really get.  The long-suffering Royals franchise, who last saw the World Series back in 1985 and have endured nearly three decades of mediocrity and failure since, had a 2014 season good enough to make it into the Wild Card game on the American League side, and have caught on the proverbial fire at the right time, and completely charged their way into the World Series.
The lovable losers from Kansas City have finally broken through decades of miserable seasons, ball and chains of potential greatness never to coming to fruition and endless diatribes about how they can't compete with the big money markets of the New Yorks, Bostons, Philadelphias and LAs.
Nobody really has to even be a Royals fan to want to see the Royals finish off this run with a championship, either.  This is the kind of story that all sports fans wish to see, the magical Cinderella run of a team overcoming all odds, much less their own reputations, for the grandest prize of them all.  And it's difficult to not get caught up in the ride either, considering the way the Royals have been playing with fire all season long, barely getting into the playoffs where they were on the brink of sudden elimination against the Athletics before staging a dramatic comeback to win, then they swept the best record in baseball, the Angels before marching into the ALCS and sweeping the Baltimore Orioles for the American League championship.
I haven't wanted to see a team not the Braves find success as much as I've wanted the Royals to win it all, in like forever.  I'm eager to find out the scores of the games after they're played, because I'm already applying superstition of "not watching games, because they will lose if I watch" to the Royals, I care that much.  I'm sure I'm obnoxiously annoying those people on my Facebook list, by posting a different cover of Lorde's Royals after every Royals win (which is a song named after former Royals legend, George Brett btw), because it seems to be working.
The Kansas City Royals winning the World Series would basically be, everything that is right about sports.  And it's what I really, really want to see happen.
So the bottom line is, that I'm kind of feeling a little bit torn about the likely (I say "likely" since the Giants haven't technically made it yet, and the god damn Cardinals could just as easily fuck everything up because that's what the Cardinals do) World Series scenario, because it puts both of my interests against each other.  If the Giants win it all, then I'm right.  If the Royals win it all, then I'm getting what I actually want.
Either way, I kind of win, but it's really lame for me to not pick a side and go into a situation where I can't lose.
So I think in this case, it's kind of obvious – I'm pulling for the Royals.  I would rather get what I want, over being right on a silly theory that means the Giants are the champions again.