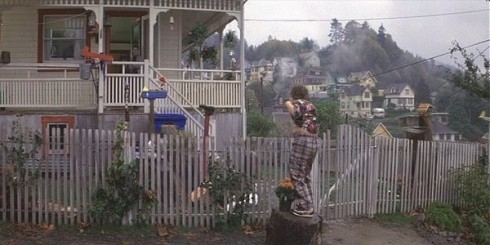 The spike into my heart: After years and years of dealing with dedicated Goonies fans wandering onto their property, the home owners of the actual home used to portray the Walsh's home in The Goonies has had enough of tourists, and is taking efforts to close access to the public.
This breaks my heart, it really does.
One thing that I have always wanted to do one of these days was to make a trip out to Astoria, Oregon, and walk along some of the landmarks from The Goonies, because it's no secret to anyone that it's one of my all-time favorite movies.  I wanted to see the jailhouse where the Fratellis escaped from, maybe see the pizzeria (if it's still there) on the docks, where Chunk watched the police chase and subsequently spilled a milkshake all over himself, and of course, see the Walsh family home, where the Goonies themselves gathered and hung out.
Unfortunately, it sounds like the Walsh home isn't going to happen, at any time, ever, now.  I can understand it, why the actual homeowners might get exasperated by the attention of their home, and it's unfortunate to see the lengths they're going to to try and deter tourism, by adorning their home in ugly blue tarps, but as a diehard Goonies fan, this really stinks at knowing that I'm probably not going to get my chance to see this particular landmark, and get the requisite selfie in front of it to prove that I was there.
If anything at all, I'm more kicking myself for all the times where I thought about making trips out to Astoria in previous years, and didn't.  I had the time and capacity in the past, but generally, the idea of making a six-hour flight combined with a two-hour drive from Portland to Astoria just seemed like too great of undertakings to want to make.  And unfortunately, the result of my hesitations have become quite unfortuitous as far as my fandoms and aspiring wanderlust is concerned.