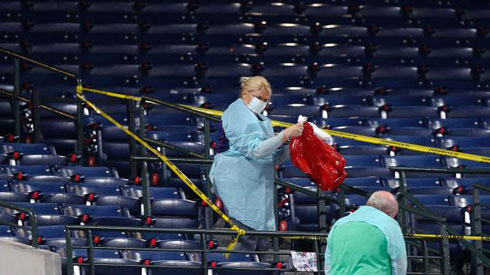 Impetus: The New York Giants Yankees complete a sweep of the Atlanta Falcons Braves by a score of 20-6.  The day after a 60-year old Braves fan fell to his death from the upper deck of Turner Field, while trying to antagonize Alex Rodriguez.
Seriously, 20-6 is a god damn football score.
Prior to the 2015 season, I mockingly said that the Braves were going to lose 100 games this season.  After all, they had traded away just about everything worth anything, and turned a team that could have probably easily won at least 85 games into a team that well, could very well lose 100 games.  Naturally, things didn't turn out as bad in the start, when the Braves swept the Marlins to start the season, and went like 5-1 or something in their first few games, but as is often the case with baseball, reality sunk in, and then the Braves started playing like the team they were destined to be in 2015, and likely again in 2016.
The thing is, there were a lot of naysayers to my outlandish belief of 100 losses, where smart alecs would correct me and state that a 90-something loss season was more likely.  Now they're not entirely wrong, but the fact of the matter is that currently, the Braves are exceeding expectations, and playing very much like the 100-loss caliber team I had declared them to be at the start of the season.
Fact: with their getting swept by the Yankees, the Braves have lost 12 of their last 13 games.  They are 54-76 in the 130 games played of the season, with 32 games to go.  If they maintain a pace like this, the Braves will finish out the season 57-105, and have undoubtedly lost 100 games.
Here's the disheartening part: no matter how much rhetoric the Braves brass and management will spew about "sorry for the shitty season, but our squad will continue to fight to the very end RAH RAH!" there is absolutely no way that they're also not thinking about the possibilities of deliberately tanking, so that the team will be in position for the top draft pick(s) going into the 2016 season.  The Braves aren't the Yankees or the Dodgers, the Braves are a cheap franchise that does not like to spend money.
Teams that do not spend money are reliant on the draft to get quality players, and even then the Braves often times skip out on high-potential stars, because they don't want to pay them, typically opting to pick guys based on "signability" which is another way of saying "guy who will possibly offer our less than superstar money offer."
Basically what I'm really getting at here is that we're kind of at a crossroads as far as the Atlanta Braves are concerned.  2015 was undoubtedly going to be a really, really bad season, which we all knew, but just how bad it was going to get, I don't think anyone could have predicted.
The team is very much alive on the futile quest for 100 losses.  A Braves fan has fallen to his death while watching a miserable team play baseball.  If you were to ask a Braves fan "the team is going to lose 161 games this season, but if you could choose the one game they win, who would it be against?" I'm sure like 80% of them would have said the Yankees.  Not only could they not get a single win against the Yankees, they allowed the Yankees to hang 20 runs in a single game, and like 38 over the three game series.  Seriously, the last time I saw anyone hang 20 runs, was when Josh Hamilton went Hulkamania on the Baltimore Orioles and the Rangers scored like 21; but that was literally almost five years ago.  I honestly never thought I'd see the day where the Braves would have 20 runs hung on them; I've seen them get no-hit, but never did I ever think I'd see them allow 20 fucking runs, much less to the New York Yankees.
Either way, the Braves have somehow sunk to a level of low, that even I can't say is pathetic.  It's actually worse than that.  The phrases from Fight Club about "hitting bottom" kind of come to mind.  I knew this season was going to suck, and that I would take things with a grain of salt, but after this kind of weekend, it's really making me question my allegiance to the team, because it's really sad when they can't even get right, being bad.