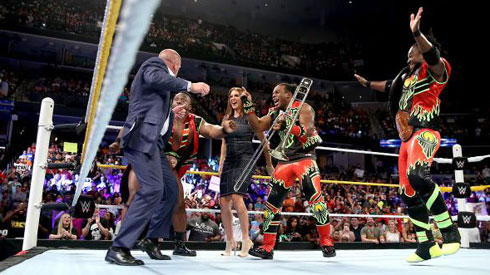 I've mentioned numerous times that I pretty much glaze over wrestling these days.  I still enjoy it, and I'm still a fan of it, but the fact of the matter is that I really loathe how RAW is presented.  Full of commercial breaks, always in the middle of matches, far too many matches that are always pushing storylines and not showcasing much actual wrestling, and then more commercials when they aren't plugging the next pay-per-view or the WWE Network in general.
I've gotten watching RAW on DVR to a science; for the most part, I can knock out the three-hour long program in probably 90 minutes or less, seeing as how an hour alone is pretty much lost to commercials.  But really, I've learned that pushing the 30-seconds ahead button to the equivalent of 4:30-5:30 minutes pretty much nails every commercial break, and that any Sheamus or Randy Orton match is usually around eight total minutes, and a Bray Wyatt diatribe is usually about 6-8 minutes.
Needless to say, I fast forward a lot of matches, and the biggest rub from me as a viewer, is if I stop and watch a particular wrestler's segment.
Lately, the things that I do not skip are John Cena US Title Open matches, as especially when they're against someone with a story involved, have all been stellar contests.  I do not skip Kevin Owens segments, because he has admittedly grown on my as a WWE talent in spite of staunch beliefs that he will never amount to anything more than a transitional champion.  I do not skip Paul Heyman promos, most Cesaro matches, and lately one thing I'm adamant about watching is the Divas Revolution, because I'm totally digging Sasha Banks and Becky Lynch, and it's also interesting to see how much the existing Divas are trying to elevate their own games to try and keep up with the influx of newer, younger talent.
However, the one thing I refuse to skip over, and will in fact stop and rewind if I realize I've skipped too much, is The New Day.  They have been the best part of every WWE show I've watched lately, and I can't help but witness them with awe and admiration, because they've basically managed to get over, in spite of the crappy gimmick hand they were dealt.
Seriously, when The New Day were originally put together, it reeked of slapping three water-treading talents with Kofi Kingston, Big E Langston and Xavier Woods together in a stable, and oh, they just so happened to all be black, and oh, let's apply a slightly stereotypical black gospel angle on them.
Naturally, the instinctual racism behind most viewers began to kick in, and they were pretty much booed and steered into the heel bracket.  As individuals, everyone knew that there were obvious strengths to each of them; Kofi's athleticism and successful track record, Big E's physique and strength, and Xavier Woods might possibly be the best mouth in the current business.  But as a team, nobody really wanted to give them a chance.
But something incredible happened throughout the course of the last year; not only did The New Day not give up on the hand that was dealt to them that almost signify the company had given up on them, they managed to start eliciting emotion out of the audience, which is the penultimate goal of a wrestling performer.  Naturally, with Xavier Woods acting as the obnoxious mouthpiece, he has managed to get under the skin and prey on the predictable nature of live audiences by telling them what not to say, only for them to say it, much to the feigned chagrin of the unit as a whole.
All while Kofi and Big E have done the brunt of the actual in-ring performance, because both are clearly more capable than Woods is, despite the fact that Woods himself is no slouch.
Ultimately, from the start, I think guys like Kofi didn't understand how to be a heel, and Big E at first tried to use the intimidating black mountain of muscle schtick he did when he initially broke in as Dolph Ziggler's sidekick, which didn't seem to work with this formula.  But with Kofi finding his footing as a heel, and Big E becoming vastly more vocal and facially animated, to work along side with Xavier Woods' obnoxious mouthpiece, the trio as a whole has become the most entertaining part of the show.
Watching Stephanie McMahon and Triple H seemingly break characters and start dancing in the ring with The New Day was kind of an acknowledgment of the success the trio has found.  Big E's exaggeratedly excited face and clapping to goad Trips back into the ring to start dancing was a true beautiful moment.
Despite the fact that the crowd is still chanting "New… Day Sucks," it's very apparent that the fans are waiting for the right moment, as if they just need a reason, to go absolutely bonkers over The New Day, and they become instant face characters.
The question is if it would be best for business for The New Day to become faces, but as it's often said in the wrestling industry, it's not for the industry to decide, because it's always been up to the fans.  The fans are waiting to light that spark, so the real question is will the WWE ever give the fans that reason, or will it be best for business for them to remain heels?
Either way, I would say keep The New Day far, far away from the Wyatt Family, considering they're a perfect three-man foil to them, because when and if they collide, I have to imagine it's kind of a no-brainer that The New Day are going to be some mega faces then.