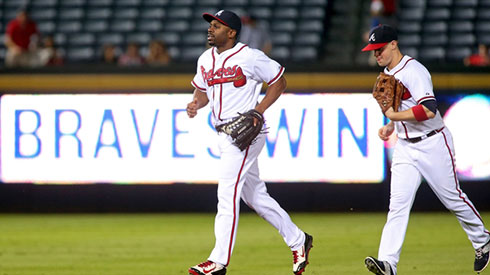 Long story short: the dream comes to an end, as the Washington Nationals prevent the Atlanta Braves from reaching the hallowed 100-loss plateau, by jobbing unceremoniously to Braves.
I just knew that once the Braves hit the 62-win mark, with the tragic number being 1, it was going to be the Washington Nationals that were going to be the one to troll me, and be the ones to lay down and die to the Braves to prevent me from seeing my 100-loss season.  I just knew it was going to be the them, I knew it was going to be the god damn Nationals that did it.
I should've bet money on the Marlins to sweep the Braves, because there was no way anyone else was going to lose to the Braves this season but the Nationals.  I'm pretty sure the Cardinals have just clinched the division, but if they hadn't/haven't, there was no way they were going to let off the gas and risk the Pirates catching up to them, even if they have 100 wins.  Even still, the Cardinals B-squad should theoretically still be superior to the Braves' whatever-squad on any given day, so there's little reason to believe that the Braves could beat them either.
So that leaves the Nationals, whom I'm more and more inclined to believe exists so that them and the Braves can troll each other on every single possible level.  The Nationals' pathetic jobbing to the Braves now is kind of like when in 2009 the Braves were on this near-miracle run to make it into the playoffs, before falling just short in the final week of the season.  However, the good vibes made it fun and exciting again, and there was hope to see some fun and exciting baseball with the Nationals coming into town to end the season; except the Nationals ended up sweeping the Braves in Atlanta in four straight games.
Or like when the Braves were in the midst of their historic collapse in 2011, the Braves dropped two crucial games to the Nationals late in the season, while the Cardinals refused to lose at all, prompting some overzealous St. Louis tryhards to even send a gift basket to the Nationals' general manager, thanking him for his squad knocking the Braves down.
Or like when John Smoltz notched his 3,000th strikeout, it was still a game in which the Nationals beat the Braves, regardless of the historic occasion.
All the Nationals do is troll the Braves, and this is no exception.  Although there are lots of people who probably don't see it the same way I do, I certainly chalk this up as one of the larger troll-jobs the Nats have done to the Braves.
God damn it.  I knew it was going to be the Nationals.  I just knew it was going to be them.
This season has sucked.